Ahead of iOS 8 announcement iOS 7 adoption nears 90% for iPhone, 85% for iPad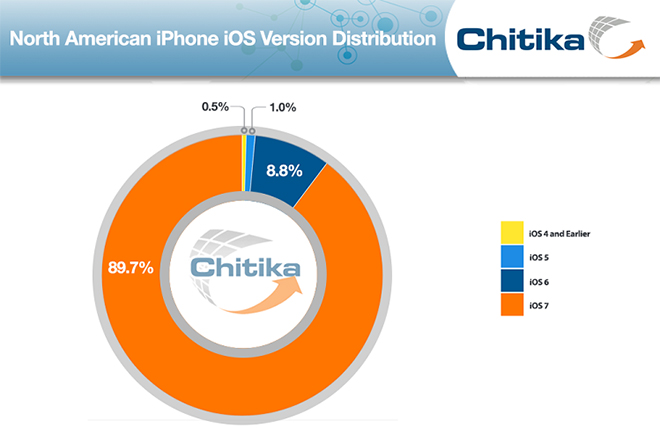 With three days to go until Apple's Worldwide Developers Conference kicks off, one research firm found iOS 7 adoption rose to new levels in the U.S. and Canada as with iPhone and iPad users continue to upgrade ahead of an expected iOS 8 announcement.
According to the latest statistics from ad network Chitika's analytics arm Chitika Insights, 89.7 percent of iPhone Web traffic in North America is being generated by handsets running some version of iOS 7. For iPads, the number is a bit lower at 84.8 percent of the whole, but the tablet-owning audience exhibited more growth over the past three months.
Compared to the firm's last study in February, 83.3 percent of iPhone owners were running iOS 7, meaning that number rose 5.4 points over the past quarter ending in May. Apple iPad users moved from 78.5 percent to 84.8 percent during the same period, representing a 6.3 percent increase.
Chitika notes that the lead up to last year's WWDC saw iOS 6 on 92.7 percent of iPhones and 82.9 percent for iPad. The uptick in iPad version distribution may be attributed to the comparative strength of Apple's latest tablet releases versus the iPhone. For example, the latest iPads launched in October with the newly-designed iPad Air and highly-anticipated iPad mini with Retina display. Another factor could be accelerated handset proliferation following the introduction of the mid-tier iPhone 5c.
Friday's study analyzed tens of millions of U.S. and Canadian online ad impressions from iPhones and iPads generated over the period between May 22 and May 28.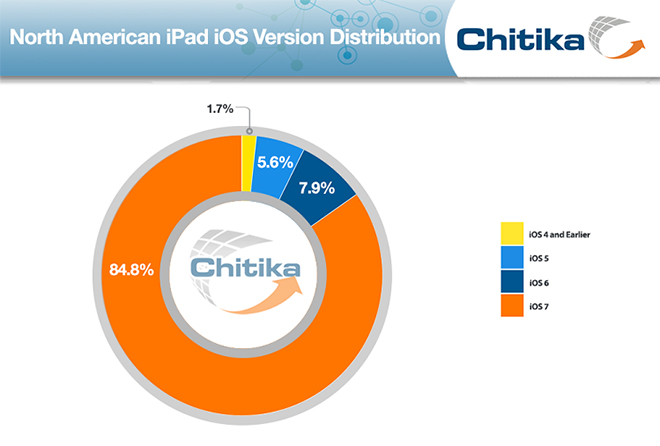 Apple's is expected to announce the next-generation iOS 8 at WWDC 2014 on Monday. Banners for the upcoming mobile operating system are already going up at San Francisco's Moscone Center, where WWDC will be held from June 2 through June 6.
AppleInsider will be providing live coverage of Apple CEO Tim Cook's keynote on Monday at 10 a.m. Pacific, 1 p.m. Eastern and will continue reporting from the conference throughout the week.