Apple's iOS 8 uses iBeacon tech to bring location-aware app access to lock screen [u]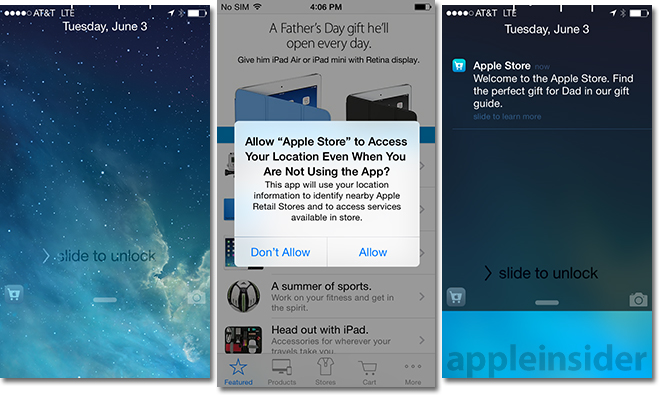 While not a shiny new feature like HealthKit, Apple baked what appears to be new iBeacon functionality into iOS 8, making the process of proximity-aware app and content pushes passive and more discovery oriented.
Update: It now appears that this features takes advantage of Location Services to determine the handset's location, much like the App Store's "Near Me" feature. According to Apple, "When Location Services is turned on, the device's current location is used to recommend relevant apps on the lock screen. In this beta, this happens whether or not the App Store is enabled for Location Services."
With iOS 8, Apple is building on iBeacon by allowing what looks to be unobtrusive push notifications to show up on an iPhone or iPad's lock screen. The feature is working even with the early developer preview build, with apps like Apple's own Apple Store title responding to the wireless pings.
The screenshots above were taken in a New York Apple Store from an iPhone with iOS location services turned on. When we neared the store, a small transparent Apple Store app icon appeared in the bottom left corner of the lock screen, directly opposite the Camera access slider. Swiping up on the icon caused our device to freeze, though the fact that the asset is there shows Apple is working on something quite novel.
Another test at a Starbucks location, which is piloting iBeacon technology at various outlets around the country, invoked an App Store icon. Swiping up took us to the iOS App Store, though the page it directed to would not load.
As we did not have the Starbucks app installed on our iPhone, we assume the notification was attempting to lead us to the app's download page. Unfortunately, the impromptu test's results were inconclusive as the App Store was completely unresponsive at the time.
Apple seems to be wary of bombarding users with notifications via the service, however, as options in the Apple Store app's Settings menu allow for fairly granular control of when these pushes will show up onscreen. In the case of the Apple Store, iOS 8 users can elect to allow location access "Never," "While Using the App" and "Always." Alternatively, users can opt out the first time an app is opened.
From the looks of it, Apple is leveraging iBeacon technology to send out generic pings to iPhones that invoke a target app to be displayed when in relatively close proximity to a beacon device. The system was less flexible in iOS 7 as users had the option to receive notifications via alert screens, or nothing at all.