Apple's Tim Cook uses WWDC stage to lob grenades at Android, sets up China showdown with Google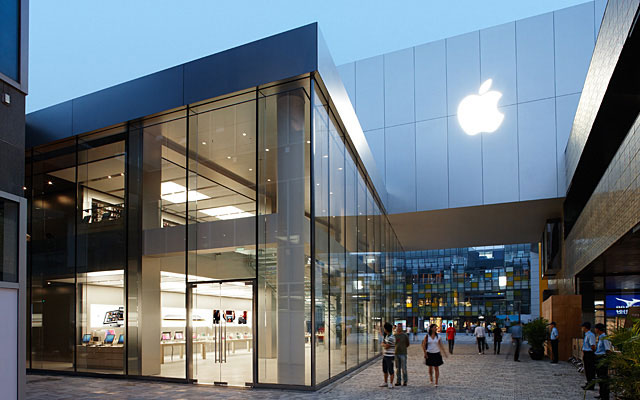 AppleInsider may earn an affiliate commission on purchases made through links on our site.
Apple CEO Tim Cook poured lighter fluid on the already-heated rivalry between Apple and Google during his keynote presentation at this week's Worldwide Developers Conference, calling out a recent mass defection of Chinese Android users to iOS and signaling the start of a new Asian offensive.
Though Cook didn't reveal exact figures, he did say that nearly half of the customers in China to whom Apple sold iPhones in the past six months had switched from an Android device.
"They had bought an Android phone — by mistake — and then had sought a better experience. And a better life," Cook added with a wry smile.
Chinese smartphone buyers have long eschewed the kind of brand loyalty displayed by consumers in more mature markets. Their fickleness isn't limited to Android devices, though: just 41 percent of iPhone owners in China plan to stick with Apple when they buy their next handset, according to a recent report from market research firm Kantar.
Chinese consumers are predicted to spend more than $87 billion on mobile phones in 2014, besting the US market by $27 billion
One reason for the frequent changes could be Chinese consumers' propensity to trade up, often starting out with a low-cost Android smartphone and exchanging them for newer, more high-end models as their purchasing power increases.
A college graduate in Shanghai might start out with a salary of less than $800 per month, for example, necessitating a budget-focused purchase thanks in part to the lack of western-style handset subsidies. They could then upgrade in a few months' time after squirreling away additional funds.
Cook also poked fun at Android's version fragmentation, exacerbated by manufacturers who load up the operating system with customizations and have little incentive to work to offer newer releases to existing customers. While 89 percent of Apple's installed base is on the most recent version of iOS, just 9 percent of Android users are in the same position.
This leads to a number of issues, Cook noted, including the proliferation of malware among Android devices that can't be updated to patch newly-discovered vulnerabilities. Security vendor Symantec said as much earlier this year in a report that found mobile malware authors to focus "almost exclusively" on Android.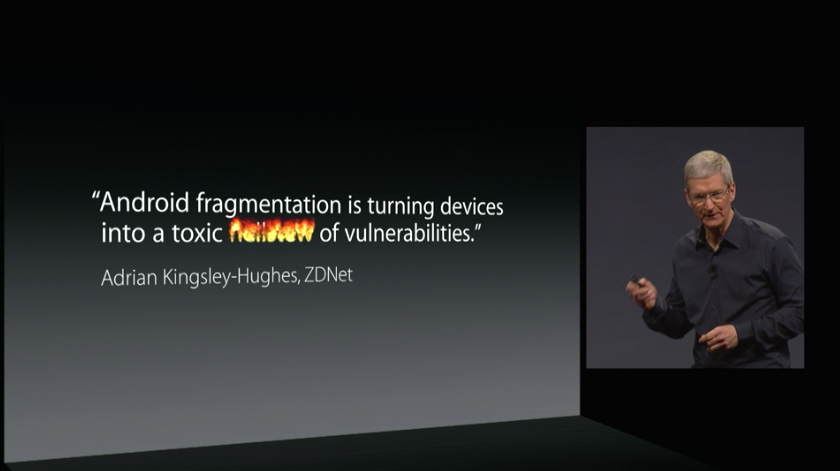 "One-third of customers are running a version of Android from 4 years ago," Cook said. "That's like ancient history! It's no wonder Android dominates the mobile malware market."
Cupertino, Calif.-based Apple is in the early stages of a major new initiative in China, which Cook has long called one of the company's most important markets. Apple has committed to a massive retail expansion under new retail chief Angela Ahrendts, with Cook saying that the iPhone's 40,000 points of sale in the Asian nation is "a low number considering the broad landmass and the number of folks in China."
Apple is also considering China in its software plans, with a number of China-focused enhancements on the way in iOS 8. Software head Craig Federighi said that would include "greatly improved maps" for the country as well as more accurate local weather data, support for the lunar calendar, and enhanced Mandarin Chinese input.