Fleksy offers sneak peek of its third-party keyboard running on Apple's iOS 8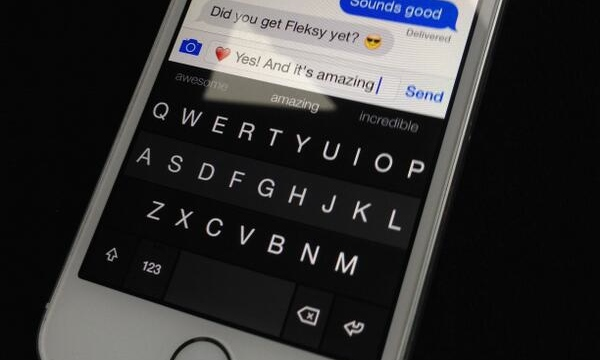 Popular alternative keyboard Fleksy is already running on the first beta of Apple's forthcoming iOS 8, and developers can sign up now to be among the first to test it out.
The company posted a picture to Twitter on Wednesday revealing that it already has Fleksy running on an iPhone with iOS 8. The image shows the third-party keyboard being used with Apple's native Messages application.
Developers who want to test out Fleksy can sign up at the company's website. No release date has been given, though Fleksy said it plans to be "one of the first third-party keyboards to be available" on Apple's forthcoming software update.
Fleksy will join SwiftKey and Swype, both of which have also confirmed that they plan to support the new alternative keyboard support in iOS 8.
Prior to Apple's announcement of official third-party keyboard support system-wide in iOS 8, Fleksy was already aggressively promoting its keyboard as a potential alternative for iOS developers earlier this year. Without sanctioned support for non-Apple keyboards in iOS 7, Fleksy was forced to offer a keyboard SDK to all iOS developers, giving them the option to include their keyboard on an app-by-app basis.
But starting with iOS 8, users will be able to install their own keyboards if they are not satisfied with Apple's solution. Apple has also improved its own keyboard in iOS 8 with a new feature called QuickType, which suggests words to users and adapts to their language over time.
Apple has said that security is a top priority for the company in finally allowing third-party keyboards on iOS. Before installing a keyboard in iOS 8, users are warned with the following:
"Full access allows the developer to transmit anything you type, including things you have previously typed with this keyboard. This could include sensitive information such as your credit card number or street address."