Lightning headphones could allow Apple to make slimmer iPhones by ditching 3.5mm headphone jack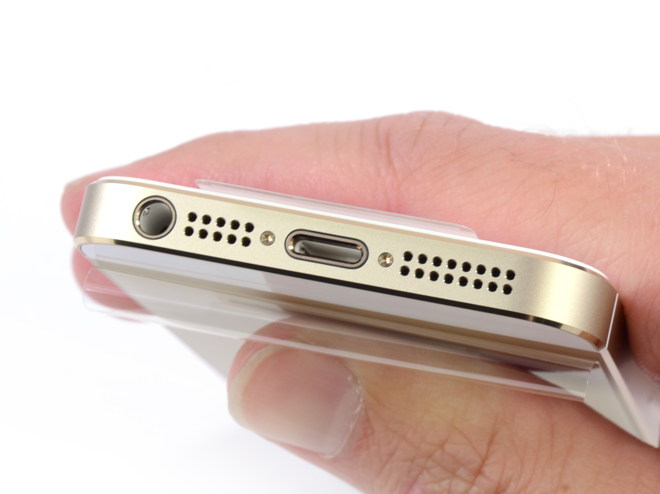 AppleInsider may earn an affiliate commission on purchases made through links on our site.
A new program designed to allow third-party manufacturers to build headphones that would connect to an iOS device via the Lightning port, rather than the legacy 3.5-millimeter headphone jack, could mean that the latter's days in Apple's supply chain are numbered.
Apple executives have never been afraid to pull the trigger on controversial choices to break from legacy technologies. The original iMac kickstarted the adoption of USB at the expense of ADB and the floppy drive; the MacBook Air made it acceptable to drop optical drives and, later, spinning hard disks.
Each of those decisions was made under the rubric of simplicity and svelteness. Fewer, smaller, faster ports give Jony Ive and company more room to experiment with radical designs and users gain a more tightly-integrated ecosystem.
Following their announcement of a new headphone module for the all-digital Lightning connector at WWDC, Apple could now be on the verge of killing perhaps the most legacy of legacy technologies: the analog audio jack.
Lightning already has blood on its contacts. When Apple ditched the old 30-pin dock connector — itself made ubiquitous by the blockbuster success of the iPod and iPhone — in favor of its digital successor, the company orphaned millions of dock connector-equipped accessories almost overnight.
An oil tanker's worth of virtual ink was spilled debating the wisdom of that move, and any encroachment on the 3.5-millimeter audio jack is sure to bring an even more massive backlash. Why, then, would Apple even consider it?
For one, it could make headphones smarter. A bidirectional digital link with Apple's uber-powerful handheld computers could make for better noise cancellation, improved audio quality, and even turn them into biometric sensors.
Headphones could also be lighter, drawing power from an iPhone instead of an internal battery. Or, if they do pack their own battery, they could be configured as auxiliary power units and eliminate the need for bulky battery cases.
The real victory, though, would come in hardware design. Because of the manner in which connectors are made, designers must account for a seating area around the jack, not just the jack itself.
In the case of the 3.5-millimeter headphone jack, Apple put this seating area at around 6 millimeters. Even the controversially minimalistic connector on Apple's own EarPods comes in at around 5 millimeters, a full millimeter thicker than the first-generation Lightning connector — and the company promised yet smaller Lightning form factors at WWDC.
The entire iPhone 5s, in comparison, is just 7.1 millimeters thick.
The headphone jack also consumes significant internal volume. As devices grow larger, so too do their power requirements, which means companies must fit larger batteries to maintain runtime. Apple is already said to have run into trouble making batteries thin enough for its next-generation iPhone, and the precious cubic millimeters saved by removing the headphone jack could be put to use housing other components to make way for the battery.
"Best of all, for the engineering team to make a product like this, it's 80 percent smaller," Apple marketing chief Phil Schiller said when introducing the Lightning connector alongside the iPhone 5. "It's a huge difference in the world's thinnest smartphone."
With the exception of the iPhone 3G, Apple has traditionally unveiled an all-new iPhone design every two years. The handset is widely expected to receive its latest makeover — with 3.5 millimeter jack in tow — this fall, with the next refresh due in 2016 if the schedule holds. That would give developers and accessory makers as long as two full years to prepare for a transition.
If Apple does choose to lose the headphone jack in favor of the Lightning connector, it's likely to be the most contentious decision they've ever made. Competitors will surely excoriate Apple in the press, though Apple might be able to deflect some of the hostility in the marketplace by strategically deploying Lightning headphones through its new $3 billion Beats subsidiary.
In the end, it's still all about simplicity and svelteness.