OS X Yosemite first look video: AirDrop with iOS 8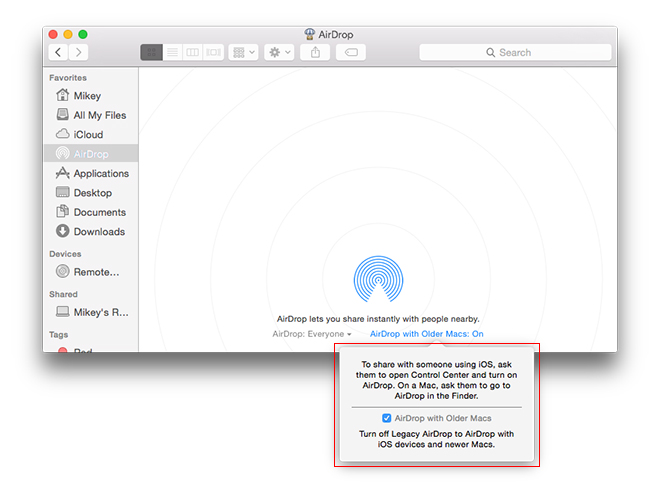 As part of the "continuity" additions Apple introduced with its upcoming operating systems, the company enabled AirDrop between systems running OS X 10.10 Yosemite and iOS 8, a long-awaited feature for many users who own both Mac and iOS devices.
In the OS X Yosemite developer preview, AirDrop works much the same it did in OS X 10.9 Mavericks, but extended to iOS devices. The new operating systems, however, will allow file transfers from Mac-to-iOS and vice versa, bringing a higher level of device integration for owners invested in Apple's ecosystem.
Despite sharing the same name, AirDrop was previously segregated into two versions; one for iOS-to-iOS transfers and another for Mac-to-Mac. This made the process of transmitting files a bit confusing for some users who expected AirDrop to work seamlessly across Apple's computer and mobile platforms.
With the new continuity functions built into Yosemite and iOS 8, which are themselves based on the Bluetooth and Wi-Fi wireless standards, Apple is able to integrate high-level sharing assets into its two major OS lines. There exists third-party software that can swap certain files or raw data between the platforms, but the new AirDrop is the first truly seamless, system-wide solution.
AirDrop can be accessed from the Share Sheets menu on both iOS 8 and OS X Yosemite. The desktop version also has a dedicated window in the Finder, much like the current implementation in OS X 10.9 Mavericks.
As seen in the video above, tapping the share button in iOS invokes the Share Sheets menu pane, from which users can elect to pass along a file, photo, webpage or other asset via AirDrop, Mail, iTunes and more.
In our test, we chose to transfer a photo from an iPhone to a Mac Pro. While we didn't have to set up or complete a Bluetooth pairing procedure, the devices were unable to recognize each other on the first few attempts. Toggling the iPhone's Bluetooth on and off resolved the issue and sharing worked flawlessly from that point on.
We were able to send across multiple photos, webpages, PDFs and other files from iOS-to-Mac, both with and without the OS X AirDrop window active in Finder. Unlike Mac-to-Mac transfers, owners logged in to their iCloud account on an iOS 8 device and OS X Yosemite computer are able to share files without consent. This is unsurprising given other features like phone calls and SMS messages can be pushed to a Mac under Apple's new OS continuity program.
It appears that the future AirDrop version for OS X is incompatible with the current standard, however, as Yosemite provides an option to "Legacy AirDrop" with Macs running Mavericks or older. The system cannot dynamically switch between the two AirDrop versions, suggesting the "new" AirDrop handles wireless protocols in a completely different manner than previous OS X iterations.
As mentioned in the our OS X Yosemite first look video covering Handoff, data exchange from Mac-to-iOS device appears to be non-functional. When the final version ships, however, we expect the feature to be operational, with familiar user icons popping up in the Finder window just as they do for Mac-to-Mac transfers in Mavericks.