Prague to host Apple's first retail presence in former Eastern Bloc - report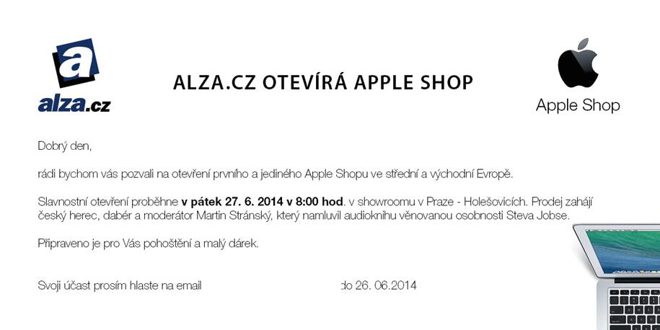 AppleInsider may earn an affiliate commission on purchases made through links on our site.
Apple will open a new store-within-a-store branch in the Czech capital later this week, according to a Monday report, marking Apple's first brick and mortar foray into Eastern European retail.
The shop — which is said to be similar to Apple-staffed outlets inside Best Buy and Wal-Mart stores in the U.S. — will be hosted by Czech electronics retailer Alza at the chain's HoleÅ¡ovice location. A ribbon cutting ceremony will take place on Friday at 8 p.m. local time, according to a media invitation published by Czech website letemsvetemapplem.eu.
Apple opened a Czech Republic branch of its online storefront in 2011, but the company has remained absent from physical retail operations in the Eastern European country. Until now, consumers have been forced to rely on a number of Apple authorized resellers and repair centers.
There is no word on whether Apple plans to expand its partnership with Alza to other locations around Prague or across the Czech Republic. The iPhone maker could also be considering an official first-party retail store under new retail chief Angela Ahrendts, whose former company Burberry has two such outlets in Prague, though no announcement has been made.
It is unlikely that any Apple executives will attend Friday's opening ceremony, though the proceeding will be hosted by Czech actor Martin Stransky. Stransky, who has dubbed a number of popular western entertainment programs for the Czech audience, was the voiceover artist selected to perform the Czech audiobook version of Walter Isaacson's official Steve Jobs biography.