Apple's secret plans for PrimeSense 3D tech hinted at by new itSeez3D iPad app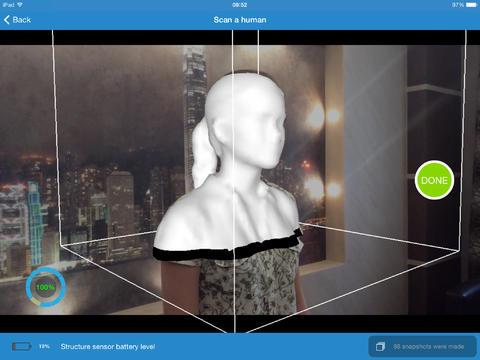 AppleInsider is supported by its audience and may earn commission as an Amazon Associate and affiliate partner on qualifying purchases. These affiliate partnerships do not influence our editorial content.
Apple has remained silent on its plans for PrimeSense, the 3D scanning firm it acquired last November. But a new iPad app based on some of the same underlying technology— which allows users to quickly capture three dimensional models for use in CAD and 3D printing via a third party peripheral— indicates that Apple may be planning to integrate the tech into future iPads as a differentiating feature.
The itSeez3D app, currently free in the App Store for a limited time, uses an iPad-connected Structure Sensor to facilitate the 3D capture of the structure of objects (or people, above), which can then be automatically wrapped with a full color surface appearance.
itSeez's app uploads its captured data to the cloud for advance processing, delivering a "complete 3D model within minutes" the company states. The software can share 3D models in standard .ply or .obj formats, which can be imported into CAD software or sent to 3D printers for building real life replicas.
"While this used to require an expensive 3D scanning unit," Itseez stated in a press release, "anyone with an iPad and Structure Sensor can now capture and share high resolution 3D models. Recreational users can also use this professional-grade technology for home design projects and the fun of turning family and toys into 3D models."
3D sensors for iPad, Xbox, PCs
The Itseez app requires an iPad outfitted with a 3D scanner. It's designed to work with the Structure Sensor (below), an iPad peripheral originally developed as a Kickstarter project.
Billed as the "first 3D sensor for mobile devices," the $499 sensor package includes a Skanect Pro sensor with an iPad-attaching bracket and a hacker cable for hobbyists.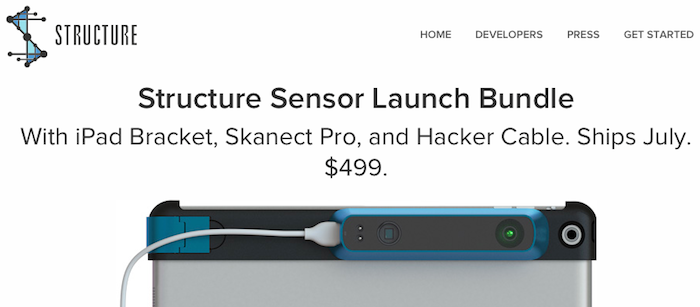 The Skanect product is based on 3D capture research by PrimeSense, which was founded in 2005 and named as a partner in Microsoft's Project Natal in 2010. Microsoft developed the technology into its depth sensing Kinect sensor for Xbox games.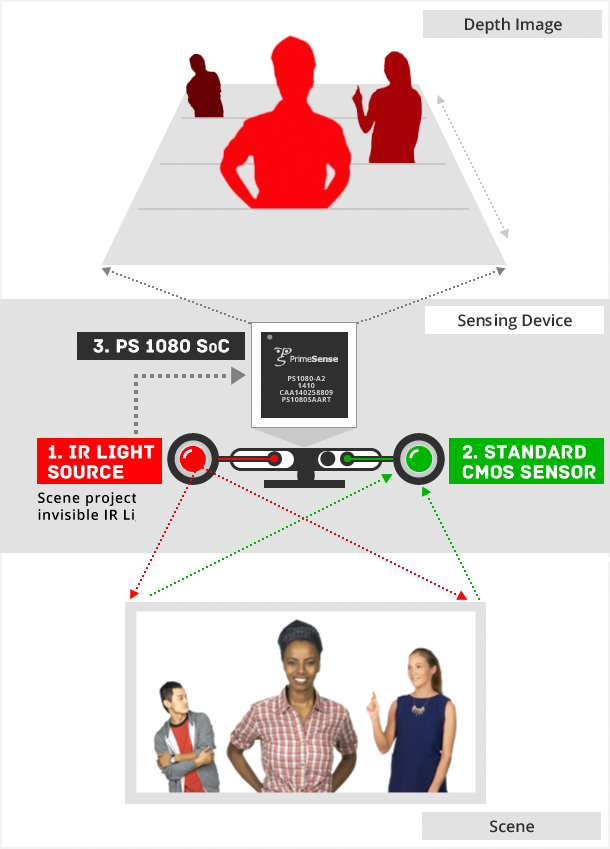 PrimeSense subsequently developed its own mobile sized 3D sensor aimed at tablets, code-named Capri. It also created OpenNI ("Natural Interaction") as an open source framework for working with depth-captured body motion and hand tracking, as well as other forms of "natural interaction" including voice command recognition, largely oriented around Microsoft's vision for Kinect.
PrimeSense subsequently created a partnership with Asus to create a Kinect-like sensor for PCs, demonstrated under the name Wavi Xtion in 2011, a device Engadget referred to as fitting into Asus' "reputation for announcing wonderfully wacky peripherals every year."
Apple to exercise PrimeSense
Last November, Apple acquired PrimeSense for $345 million, in a move that appears to have a lot in common with the company's 2012 acquisition of AuthenTec for nearly the same amount: $356 million.
Just like Authentec, PrimeSense has a premium technology ready for inclusion in mobile devices. Also like Authentec's advanced fingerprint sensor, the compact Capri sensor assembly developed by PrimeSense is a relatively expensive component that got little attention from budget-oriented manufacturers building the majority of iPad competitors.

Further, in the same way that Apple enhanced Authentec's Smart Sensor (pictured above) in the roughly 18 months between urgently acquiring the company and delivering TouchID for iPhone 5s, Apple is expected to significantly improve upon the mobile Capri sensor PrimeSense first began demonstrating at the beginning of 2013, nearly a full year before Apple bought the company.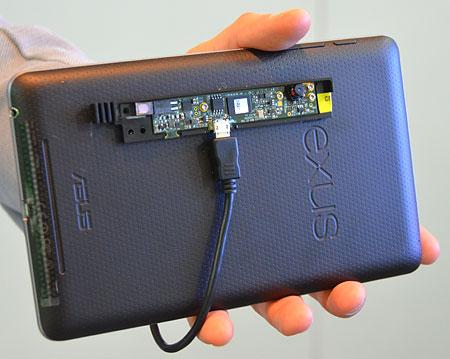 The possible inclusion of a mobile 3D capture sensor in future iPads would open up a variety of innovative new applications for Apple's tablets, using hardware and software technology that other tablet makers would be unlikely find cost effective to copy.
In a potential bid to advance its leadership over the development of mobile 3D imaging, Apple abandoned the OpenNI group PrimeSense had been hosting to facilitate community development of its technology. The original code and documentation have since been hosted by GitHub, while Apple itself has been laying the foundation for new 3D gaming and other initiatives in OS X and iOS with Scene Kit, first introduced in 2011 for OS X Lion and slated for inclusion in iOS 8 this fall.
Building the equivalent of a $499 Skanect package into future iPads would bring 3D room sensing, object scanning and greatly simplified access to 3D model printing to Apple's vast audience of iPad users, while also offering another proprietary advantage to Apple's iOS ecosystem that will be— like TouchID and Apple's 64-bit A7 Application Processor with advanced Metal optimized graphics— difficult for commodity tablets to copy.