Samsung compares Galaxy Tab S to iPad in continued anti-Apple ad campaign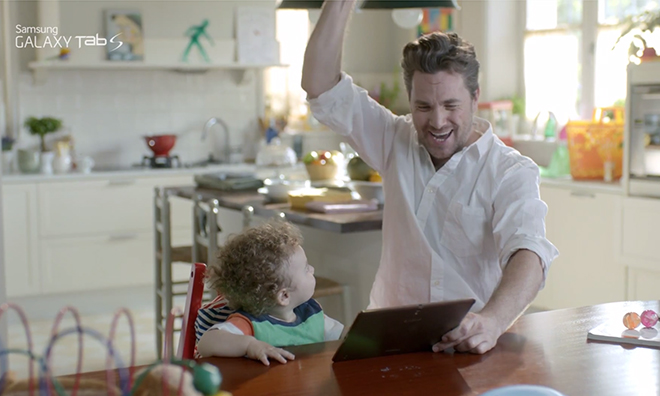 AppleInsider is supported by its audience and may earn commission as an Amazon Associate and affiliate partner on qualifying purchases. These affiliate partnerships do not influence our editorial content.
Following up on last week's anti-Apple spot in which iPhone users were called "wall huggers," Samsung on Friday aired two ads aimed at iPad owners, touting Galaxy Tab S features like split-screen multitasking and Super AMOLED displays.
The first ad takes aim at iOS, noting Apple's mobile OS does not support "true" multitasking. As seen in the video below, a father tries to — unsuccessfully — share a tablet bearing a striking resemblance to the iPad with his baby. Without split-screen multitasking, dad can't track a soccer match and keep baby entertained with "Rio."
While onscreen graphics (which are simulated) fail to directly show iOS, the operating system's lack of a split-screen mode has previously been used as anti-Apple fodder by Microsoft in its ads for Windows. Samsung is doing much the same.
A narrator chimes in with his thoughts on the situation, suggesting the problem is easily solved with Samsung's Galaxy Tab S.
"What's going on? Ah, it looks like dad's tablet can only do one thing at a time. What if it were a Samsung Galaxy Tab S? With the Galaxy Tab S, the whole family has something to smile about."
Apple has long been rumored to include a split-screen solution for its iPad lineup, but evidence of the feature remained elusive. However, recently-discovered code from an iOS 8 beta build strongly suggests the company is working to roll out split-screen viewing in the near future.
Samsung's second spot is less of an anti-Apple ad than it is a swipe at LCD technology. Apple's iPad, and many current tablet offerings from rival manufacturers, use high-resolution LCD panels, while Samsung has been touting its AMOLED screens, branded as "Super AMOLED."
Once again, the disembodied voice suggests an alternative in the Galaxy Tab S, saying, "What went wrong here? Ah, it's not a Super AMOLED. What if it were a Samsung Galaxy Tab S? Compared to many LCDs, Super AMOLEDs give you 100 times higher contrast. Instead of 1000-to-1, you get 100,000-to-1 contrast."
The ad does, however, offer a fairly concise explanation of the differences between the two display technologies:
Conventional LCDs get their color using a backlight, but Super AMOLEDs turn off pixel by pixel, each emitting their own light. So you get all the fine details and varied shades of black that many LCDs can't show.
At the end of each commercial, the narrator wraps things up by asking, "Do you see what I see," a departure from Samsung's "Next big thing is here" tagline for its Galaxy S smartphone lineup.