Apple rolls out iTunes Pass to US and Australian customers [u]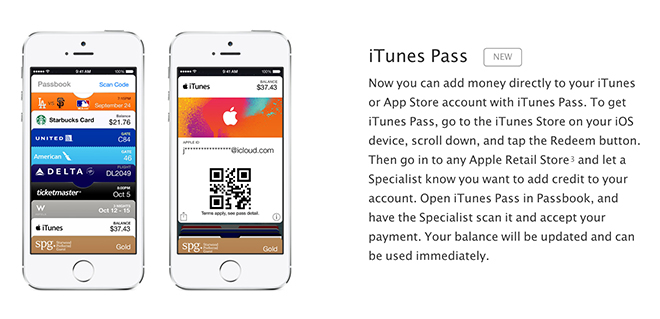 After rolling out the service in a pilot test last week, Apple late Wednesday made iTunes Pass available at Apple Stores across the U.S. and Australia, allowing customers to recharge their iTunes account balance in-store via a Passbook card.
As noted on Apple's respective U.S. and Australian webpages concerning iTunes gift cards, customers in those countries can now use iTunes Pass to refill their iTunes account balance at brick-and-mortar Apple Stores. The iTunes Pass program first debuted in Japan on Monday.
Apple's new iTunes Pass service is a Passbook-based system in which customers can add funds to a digital iTunes card by paying an Apple specialist in person, rather than using a credit card or buying and scanning iTunes gift cards. The procedure is a reversal of normal Passbook operation, which has customers refill an account balance tied to Passbook card that can then be used for redemption at participating businesses.
Like the Japan rollout, Apple notes "iTunes Pass is not available in Brazil, China and Turkey," suggesting the company is looking to introduce the feature to other countries soon.
Apple introduced Passbook in iOS 6 to store digital assets like gift cards, coupons and boarding passes. Users can download and store cards linked to digital accounts from participating retailers and businesses like the Apple Store, Starbucks and United Airlines.
Update: Apple's iTunes Pass rollout continues and is now active in Germany.