First look: Using Passbook at an Apple Store to buy iTunes & App Store credit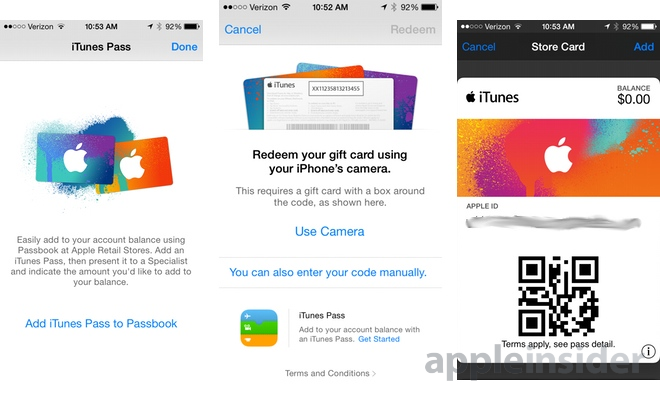 AppleInsider is supported by its audience and may earn commission as an Amazon Associate and affiliate partner on qualifying purchases. These affiliate partnerships do not influence our editorial content.
Apple on Thursday began offering customers in the U.S. and elsewhere the ability to replenish their iTunes Store credit through its Passbook digital wallet application for iPhone when visiting an Apple Store. AppleInsider offers a first look at how it works.
From any location, users can launch the iTunes Store or App Store application on their iPhone, then scroll to the bottom of the main page and choose to "Redeem" a gift card. At the bottom of that page is an iTunes Pass image that invites users to "Get Started."
Users must then sign in and go through a few pages explaining how the process works. Apple's description reads:
"Easily add to your account balance using Passbook at Apple Retail Stores. Add an iTunes pass, then present it to a Specialist and indicate the amount you'd like to add to your balance."
Once users select the "Add iTunes Pass to Passbook" link, a new iTunes "Store Card" will be added to their Passbook application. It includes a balance, iTunes ID (with the email address partially censored), and a QR code that an Apple Store employee can scan to complete the transaction.
Users can set their purchase to any amount, and are not required to buy preset amounts of credit for the iTunes Store.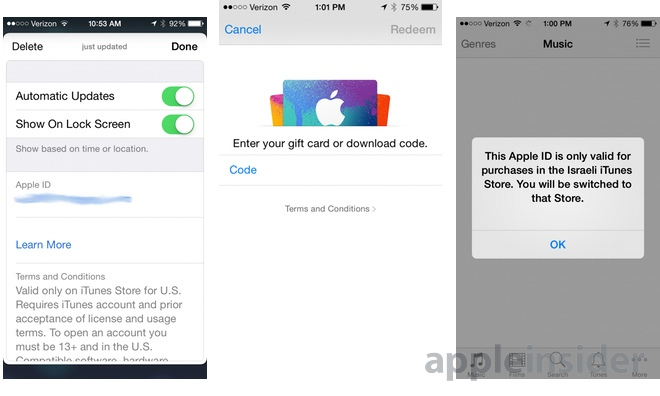 Like other items in Passbook, the Apple "Store Card" can have automatic updates enabled, and it also has the ability to automatically show up on a user's lock screen when they arrive at an Apple Store.
The terms and conditions noted for us at an American store that the Passbook item was valid only on the U.S. iTunes Store. We did attempt to log in to an Israeli iTunes account, but the system wouldn't allow it.
After the desired purchase has been configured, a customer can visit an Apple retail location with their newly created Pass. A store employee can then scan the code with their point-of-sale iPhone, and then uses the customer's credit card (or cash) to add money to the account.
While this method of buying iTunes and App Store credit isn't as convenient as simply having a credit card tied to your account that can be used to automatically make purchases, this new method might be more convenient for iTunes customers who rely on gift cards for their account.