Apple denies installing iOS 'backdoor' services for government agencies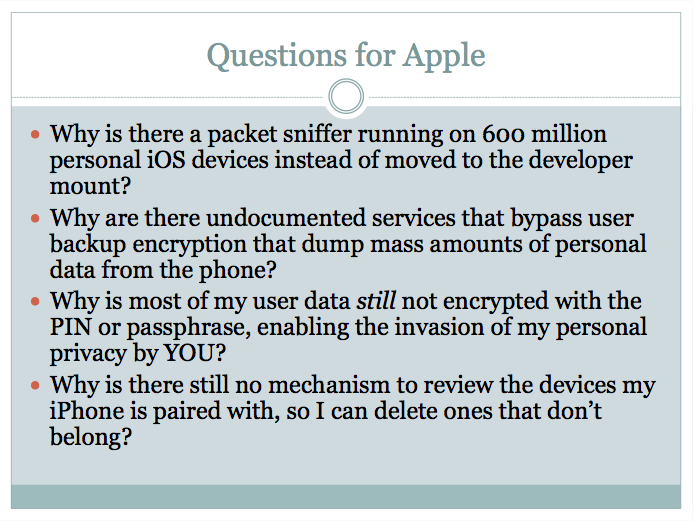 AppleInsider is supported by its audience and may earn commission as an Amazon Associate and affiliate partner on qualifying purchases. These affiliate partnerships do not influence our editorial content.
In response to allegations that Apple installs "backdoor" services in iOS that could be used to harvest and deliver personal information to government agencies, the company on Monday issued a statement denying any such activity and explains the steps taken to ensure customer data privacy.
Presentation slide from
Jonathan Zdziarski's
"Identifying Back Doors, Attack Points, and Surveillance Mechanisms in iOS Devices."
According to a statement sent by email to Financial Times journalist Tim Bradshaw, who subsequently posted a snippet of the note on Twitter, Apple reaffirmed it has never work with any government agency to create a backdoor in any consumer product or service.
We have designed iOS so that its diagnostic functions do not compromise user privacy and security, but still provides needed information to enterprise IT departments, developers and Apple for troubleshooting technical issues. A user must have unlocked their device and agreed to trust another computer before that computer is able to access this limited diagnostic data. The user must agree to share this information, and data is never transferred without their consent.
As we have said before, Apple has never worked with any government agency from any country to create a backdoor in any of our products of services.
A report earlier today cited forensic scientist and iOS hacker Jonathan Zdziarski as saying he discovered a number of suspicious background services in Apple's mobile operating system that could potentially be used to gather unsolicited user information. Zdziarsky recently presented his findings at the HOPE/X conference in New York.
Various services were brought into question, including some that can seemingly bypass iOS backup encryption to serve up data from a user's address book, clipboard, voice mailbox, calendar, notebook and more. Other examples include enterprise features that allow nefarious hackers to install custom spyware on a device by forging a security certificates.
Data privacy has quickly become a hot-button topic as mobile devices become increasingly capable with each successive generation. Many user-experience features are intrinsically tied with personal data, such as automated task scheduling, cloud-based photo storage or saving credit card information on-device for easy online payments.
These issues were brought to the fore when former defense contractor Edward Snowden exposed America's deep surveillance programs, many of which leveraged digital data generated by consumer electronics and computers.
In a bid for transparency, Apple in January released an update regarding statistics on information requests made by U.S. governmental agencies. Separately, CEO Tim Cook vowed to "absolutely" press Congress for greater transparency on the issue of surveillance.