Rumor: Rear shell for 4.7" 'iPhone 6' shown with inlaid Apple logo in new photos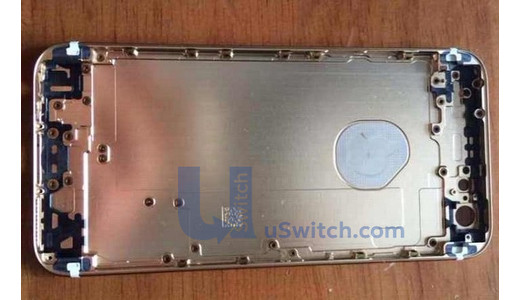 AppleInsider may earn an affiliate commission on purchases made through links on our site.
Yet another rear shell for Apple's next-generation iPhone has purportedly been outed by sources in the company's Far East supply chain, with the latest set of photos showing a more refined unit complete with an iPad-like inlaid Apple logo.
The part appears to be at a later stage of manufacturing than those shown in previous leaks, with a smoother appearance. Utility comparison site uSwitch was first to publish the images.
The reason behind Apple's supposed move to an inlaid logo is not immediately clear, though some have speculated that it could be designed to allow the logo to light up — similar to the company's MacBook line — to notify users when a call or message comes in. The more likely explanation, however, is that the opening would be used for signals from one of the device's many antennae.
Another possible explanation is the widely-rumored inclusion of NFC in the so-called "iPhone 6," possibly coinciding with the introduction of an iTunes-backed mobile payment system. Placing an NFC antenna behind the Apple logo could be convenient for tap-and-go purchases.
Apple is widely expected to offer the iPhone 6 in two versions — one with a 4.7-inch display and a larger, 5.5-inch "phablet" variant. Other features rumored to be in the offing are a new, 128-gigabyte capacity version, optical image stabilization, and a faster "A8" CPU.