Apple falls short of expectations with $7.7B in profit on sales of 35.2M iPhones, 13.3M iPads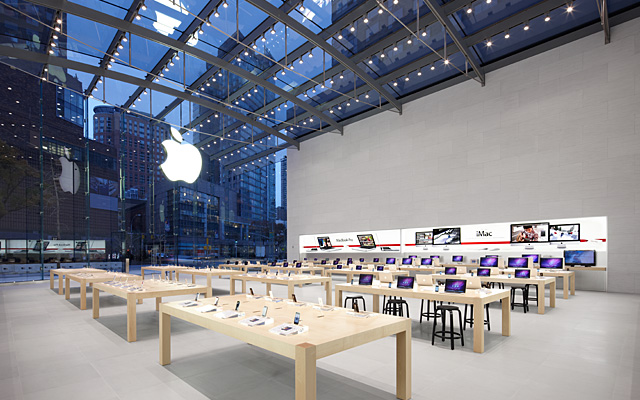 Apple saw double-digit-percentage growth for the iPhone to reach 35.2 million units in its just-concluded June quarter, the company revealed Tuesday, but it still fell just shy of the market's expectations, particularly with declining sales for its iPad lineup.
iPhone shipments in the June quarter were up 12.7 percent from the 31.2 million the company shipped in the same period a year ago, and helped the company achieve record revenue of $37.4 billion and $7.7 billion in profit. Driven by that iPhone growth, Apple saw its profits rise 12.3 percent from the June 2013 quarter, but total iPhone sales came in on the low side of what investors were generally hoping to see.
Mac sales were strong thanks to new lower-priced refreshes of the MacBook Air and iMac lineup. They were up 17.6 percent to 4.4 million units, an increase from 3.8 million last year.
But the big disappointment for Apple came in the form of iPad sales, which were down for the second consecutive quarter, hitting 13.28 million units in the three-month period. That was clearly lower than investors were hoping for, and represents a decline of 9.2 percent from the 14.6 million Apple shipped a year ago. For its part, the company signaled that its officials aren't concerned.
Though it was a record June quarter, Apple's financials came in below general Wall Street expectations. Regardless, investors are focused on the fall with new products expected.
Gross margins were improved, however, reaching 39.4 percent, up from the 36.9 percent the company saw a year ago and exceeding investor expectations. International sales accounted for 59 percent of the quarter's revenue.
"Our record June quarter revenue was fueled by strong sales of iPhone and Mac and the continued growth of revenue from the Apple ecosystem, driving our highest EPS growth rate in seven quarters," said Tim Cook, Apple's CEO. "We are incredibly excited about the upcoming releases of iOS 8 and OS X Yosemite, as well as other new products and services that we can't wait to introduce."
Analysts on Wall Street were generally expecting sales of between 35 million and 36 million iPhones for the quarter, while iPad sales were expected to be between 14 million and 15 million. Street estimates had pegged revenue at $37.9 billion and gross margins at 38 percent — Apple missed the former, but topped the latter.
Apple did beat on earnings per share, reporting $1.28 which beat consensus of $1.23.
"We generated $10.3 billion in cash flow from operations and returned over $8 billion in cash to shareholders through dividends and share repurchases during the June quarter," said Luca Maestri, Apple's CFO. "We have now taken action on over $74 billion of our $130 billion capital return program with six quarters remaining to its completion."
Looking ahead to the fiscal 2014 fourth quarter, Apple also provided guidance that came in lower than Wall Street was hoping. The iPhone maker is projecting:
Revenue between $37 billion and $40 billion
Gross margin between 37 percent and 38 percent
Operating expenses between $4.75 billion and $4.85 billion
Additional income of $250 million
A tax rate of 26.1 percent
The Apple Board of Directors has also declared a cash dividend of 47 cents per share of common stock. It will be payable on Aug. 14, 2014 to shareholders of record as of the close of business on Aug. 11.