Amazon stock dips after anaemic third quarter, tepid reception for Fire Phone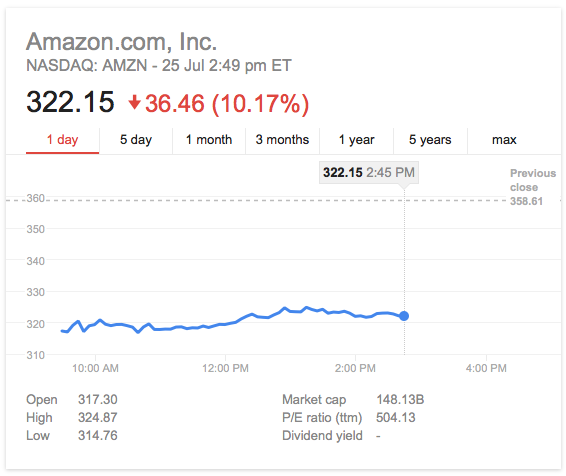 On the same day that Amazon begins to ship its new, widely-panned Fire Phone to consumers, shares of the online retailing giant are trading down nearly 10 percent after the company posted a $126 million loss on nearly $20 billion in sales in its fiscal second quarter.
Amazon said that the narrow loss — which came despite a $4 billion year-over-year jump in sales — can be attributed largely to new business investments, though some of its existing cash cows also slowed. A decline in business at Amazon Web Services affected the bottom line in a "meaningful way," the company noted.
Though Amazon does not provide detailed expense breakdowns, much of the new investment is likely tied to the Fire Phone. The handset, unveiled in June, sports advanced image recognition and three-dimensional tracking capabilities.
Unfortunately, the new device was not as well-received as Amazon's other hardware projects. Many reviewers panned it as "full of gimmicks," saying it is covered in "whiz-bang frippery" and that some of its headline features are "sometimes outright frustrating."
The bleeding does not look set to stop any time soon, as Amazon predicted an even larger shortfall for the third quarter. Amazon CFO Tom Szkutak warned investors that its losses for that period could top $800 million.
At press time, shares of Amazon were down nearly 10 percent to under $333.