Amazon announces Fire Phone with 4.7" 3D head tracking display & Firefly smart scanner, exclusive to AT&T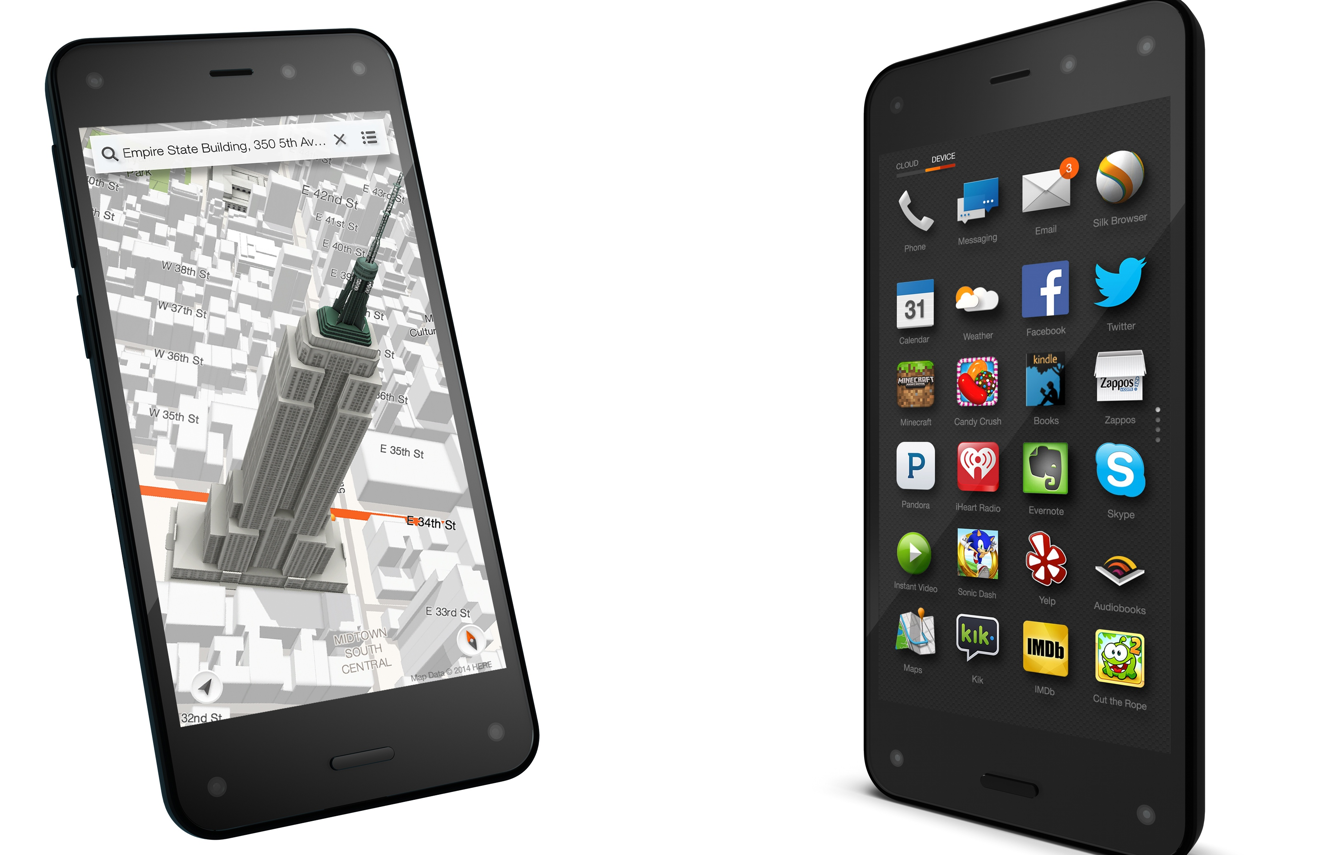 Amazon announced its long awaited entrance into the smartphone market on Wednesday in unveiling the new Fire Phone, a device the retailer plans to pit against Apple's iPhone by integrating advanced head tracking technology for dynamic 3D content viewing, as well as new scanning functions that intelligently interpret data from the physical world.
The 4G LTE Amazon Fire Phone launches exclusively on U.S. carrier AT&T July 25 and starts at $649 contract-free with a 32-gigabyte capacity, or $199 with a two-year service contract. A 64-gigabyte model will also be available for $749 off-contract, or $299 with, and preorders are available now. The handset also comes with a full year of Amazon Prime for free, for both new and existing Prime subscribers.
The Fire Phone features Gorilla Glass on the front and back panels, surrounded by a rubberized frame that is said to be durable. Aluminum buttons and chamfered edges are also found on the exterior, while inside it's powered by a 2.2-gigahertz processor, Qualcomm Adreno 330 graphics processor, and 2 gigabytes of RAM. It runs a new, phone-optimized version of Amazon's Android-based mobile platform, dubbed Fire OS 3.5.
Cameras are a centerpiece of the device, featuring a 13-megapixel rear facing shooter with f/2.0 lens and optical image stabilization, along with a dedicated camera button that allows photos to be snapped instantly when pressed, regardless of whether or not the screen is on. Amazon is also including free, unlimited photo storage with the Fire Phone.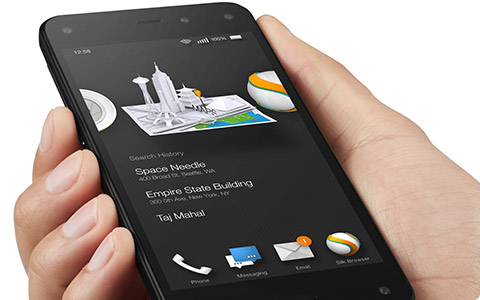 Making extensive use of the camera is Amazon's new Firefly feature, which can recognize physical media including books, movies, CDs and even pieces of art. It will also scan barcodes and QR codes, and also interpret things such as phone numbers and URLs. Firefly also listens, and can recognize music and TV shows, allowing quick access to buy content.
In one example, Amazon Chief Executive Jeff Bezos showed off how the Fire Phone would intelligently interpret a phone number even though part of the number was obscured with glare. The system used context to know that 703 is not a valid exchange for the area code 206, so the phone number's exchange must actually be 708.
The handset can also compress pictures for transferring by only sending relevant parts of the image. Using the dedicated Firefly button, the phone will automatically scan and determine what information might be of value.
Firefly also comes with a software development kit, allowing custom actions to be developed alongside the text, audio, and image recognizers. Announced partners include iHeartRadio for music scanning, MyFitnessPal for tracking nutrition on food consumed, and Vivino for tapping into wine databases.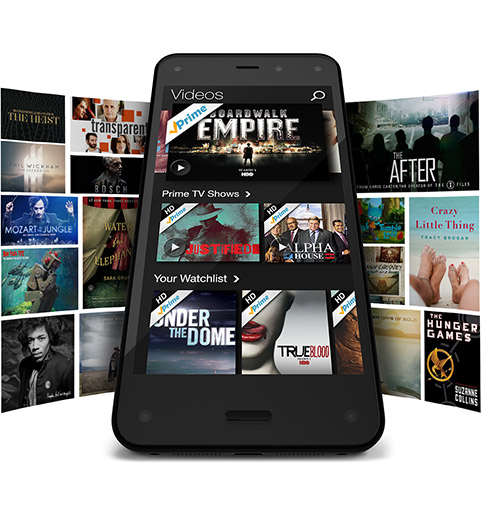 Multiple cameras are also found on the front of the device, tracking a user's head and eyes and allowing the picture to dynamically adjust, giving the illusion of three dimensions. In one demo by Bezos, a 3D image of the Empire State Building was shown and would dynamically move as the user moved the phone.
The "Dynamic Perspective" feature on the Fire Phone can be used with maps, pictures, and when browsing content. In another demonstration, Bezos flipped through clothing by tilting the phone. Users can also tilt their phone to scroll in a Web browser or Kindle book reader, rather than touching the screen.
The system is powered by four forward facing cameras located in the four corners of the handset. This allows two cameras to track the user's head no matter how they are holding the device.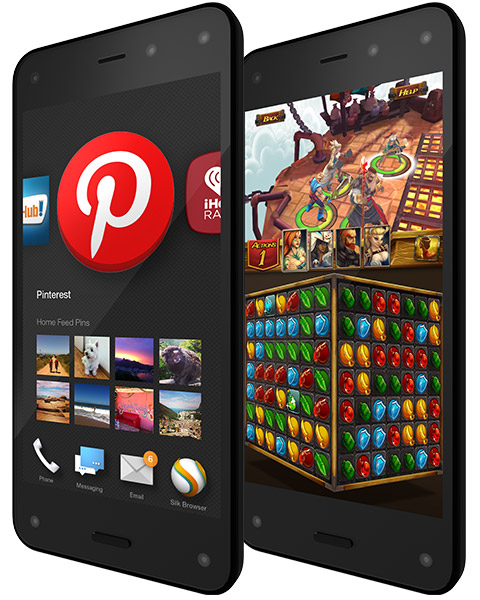 The cameras are also equipped with infrared light sensors that are invisible to the human eyes, but allow the system to work in absolutely darkness. It's also backed by advanced software that can help interpret human heads from objects that might be something else, like a statue or face on a t-shirt.
The Amazon handset also boasts dual stereo speakers and Dolby Digital Plus surround sound, and it ships with magnetic earbuds featuring tangle-free flat cables. It will also tap into the Amazon Instant Video and Music services, and offers features previously available on the Kindle Fire like Second Screen and X-Ray, while content can also be pushed to Miracast devices including the Fire TV.
Also coming over from the Kindle Fire will be Amazon's "Mayday" button, which offers near-instant video technical support for users. It's available for free at all hours, and works over cellular data or Wi-Fi.