Apple's legacy MacBook Pro with CD/DVD SuperDrive lives on with $100 price cut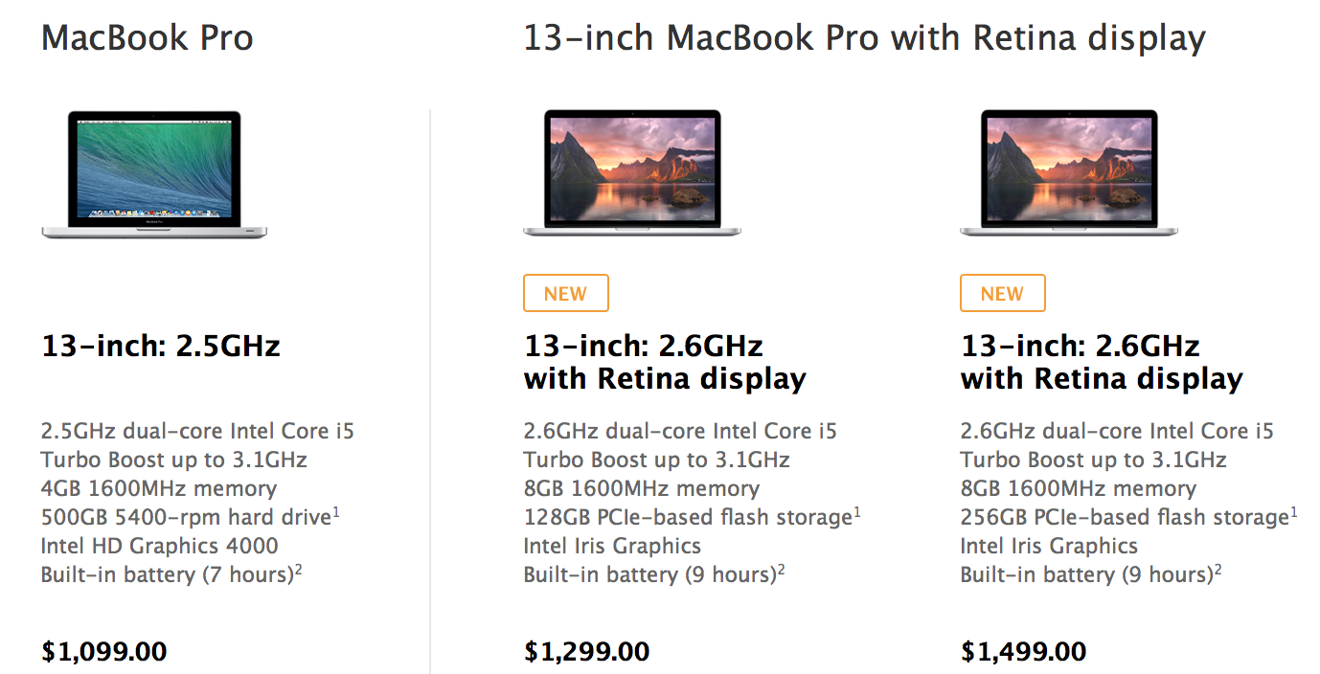 AppleInsider is supported by its audience and may earn commission as an Amazon Associate and affiliate partner on qualifying purchases. These affiliate partnerships do not influence our editorial content.
Though it lacks a Retina display and features a thicker, heavier design, spinning hard drive, and a CD/DVD SuperDrive, Apple's legacy MacBook Pro survived the company's latest round of updates on Tuesday, and was even given a $100 price cut to $1,099.
Specifications for the 13-inch non-Retina MacBook Pro remain the same: It has a 2.5-gigahertz dual-core Intel Core i5 processor, 4 gigabytes of 1600MHz memory, a 500-gigabyte 5400-rpm spinning hard drive, and Intel HD graphics 4000. Despite its heft, it also gets poorer battery life than the thinner models with Retina displays: 7 hours of advertised uptime versus 9 hours for the premium 13-inch varieties.
Apple continued to offer non-Retina 15- and 13-inch models until last October, when the 15-inch legacy MacBook Pro was given the ax.
The sole remaining 13-inch model with disc drive is now by far the cheapest option for users looking to get a professional-grade notebook from Apple, costing a full $200 cheaper than the entry 13-inch Retina model. That model was given a bump on Tuesday to 8 gigabytes of RAM, doubling its previous offering, while the processor was increased to a 2.6-gigahertz dual-core Intel Core i5.
For the non-Retina 13-inch, matching the RAM of the entry Retina model adds $100 to the price tag, making it still a cheaper option. A processor upgrade to a 2.9-gigahertz dual-core Intel Core i7 is also available for $150 extra, and hard drive upgrades to a 1-terabyte spinning drive or various solid-state drives are also available.
The continued availability of the 13-inch model with SuperDrive comes as Apple has moved toward a disc-less future. Ditching optical drives has allowed Apple to avoid hardware failures with those components, and along with speedy and small flash storage has helped enable thinner and lighter notebook designs.
Though both the MacBook Air and MacBook Pro lineups have now been updated with slightly faster Intel processors in 2014, rumors suggest that the company isn't done yet, as a new 12-inch notebook with a high-resolution Retina display and a completely new external design is expected to hit shelves this holiday season. KGI Securities analyst Ming-Chi Kuo revealed last October that the new 12-inch MacBook will feature an "ultra-slim clamshell form factor," and observers believe it will represent the company's first MacBook Air with a Retina display.
Kuo believes the new MacBook will be powered by an Intel processor, not a custom ARM chip as has been rumored. He has predicted that the incoming model will "redefine laptop computing once again following the milestone created by the MacBook Air."