Apple officially closes on $3B purchase of Beats headphones & streaming service
Apple on Friday gave an official welcome to Beats Music and Beats Electronics, which are now a part of the Cupertino, Calif., outfit after the $3 billion purchase price was finalized.
Apple added a "welcome" page for Beats to its own website on Friday, and the official Beats site was also updated to reflect Apple's purchase. The announcements would suggest that Apple did not face any scrutiny from the U.S. government, while the European Commission approved the deal earlier this week.
In addition, Vivendi revealed on Friday that it sold its stake in Beats Electronics LLC to Apple for $404 million. The company had a 13 percent position in the premium headphone maker.
It was announced in May that Apple had entered a deal to buy Beats for $3 billion, with about $400 million of that buyout in stock. Apple's $404 million payout to Vivendi could suggest that its stake represented the stock portion of the deal.
Apple's new Beats section of its website welcomes the acquisition "to the family." It also notes that Beats cofounders Jimmy Iovine and Dr. Dre, who are now Apple employees, "have created beautiful products that have helped millions of people deepen their connection to music."
Apple said it plans to "elevate" the experience of Beats headphones to even higher levels through the purchase.
"Today we are excited to officially welcome Beats Music and Beats Electronics to the Apple family," Apple's page reads. "Music has always held a special place in our hearts, and we're thrilled to join forces with a group of people who love it as much as we do."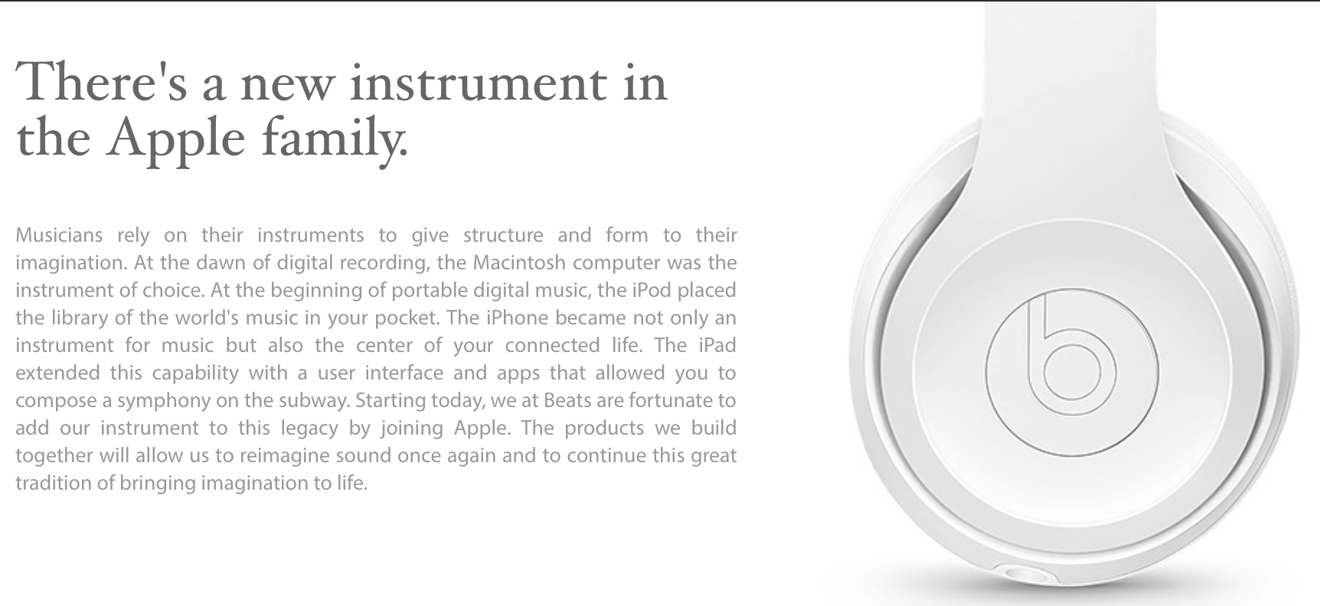 Over at the updated Beats site, the headphone maker has told its customers that "there's a new instrument in the Apple family." It notes that in the early days of digital recording, the Macintosh was "the instrument of choice," while the iPod led the revolution in digital music, and the iPhone and iPad became instruments of their own.
"Starting today, we at Beats are fortunate to add our instrument to this legacy by joining Apple," the Beats site reads. "The products we build together will allow us to reimagine sound once again and to continue this great tradition of bringing imagination to life."
Apple's $3 billion acquisition was not only for the Beats headphone business, but also represents Beats Music, which is an on-demand subscription streaming music service available on desktop, iOS, Android and Windows Phone. In the breakdown of the deal, Apple paid about $500 million for Beats Music, and $2.5 billion for Beats Electronics.
Though Beats is best known for its headphones, the Beats Music product received top billing from Apple when the deal was announced back in May. Apple has said it plans to keep the subscription Beats Music service intact, and as its own brand, alongside existing iTunes Radio free streaming and song purchasing through the iTunes Store.