Apple notifies developers of ongoing iCloud Drive maintenance, reminds to perform routine backups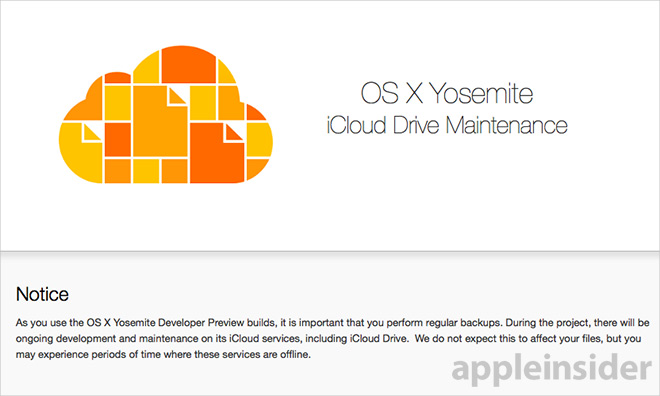 Apple on Tuesday sent out emails to developers using OS X 10.10 Yosemite Preview builds, warning them to perform regular backups as the company performs ongoing maintenance of iCloud services, including iCloud Drive.
The notes, sent out to members of the AppleSeed program, remind developers testing out the latest OS X 10.10 Yosemite Developer Preview builds to routinely perform system backups as iCloud Drive and other iCloud features may become temporarily unavailable as OS development continues.
Apple does not expect the downtime to affect users' files, though data stored in iCloud Drive will be inaccessible during routine maintenance, which could last for an indeterminate period of time.
First unveiled in June, iCloud Drive is a multi-platform service set to roll out with OS X Yosemite and iOS 8 that will allow users to save files to save, sync and retrieve files from iCloud. The system will work on OS X, iOS and Windows and feature a drag-and-drop interface.
Along with the iCloud Drive, Apple will introduce new iCloud storage pricing for consumers and the "essentially free" CloudKit service for developers that grants members asset storage space and data transfer allowances.