Intel's 'Core M' chip announcement suggests Broadwell-based MacBook Pros won't arrive until 2015

Intel on Monday announced that its first low-power Broadwell chips will hit the market in limited quantities before the end of the year, and that those processors will be intended for premium tablet- and hybrid-style devices, strongly implying that next-generation chips bound for Apple's popular MacBook Pro lineup won't be available until 2015 at the earliest.
Intel's "Core M" processors are geared toward fan-less, low-power mobile devices that will come in ultra-thin form factors. The chipmaker is targeting its Core M series for devices less than 10 millimeters thick, making it an ideal candidate for Windows-based "convertible" tablet-laptop combinations.
Core M chips appear unlikely to power Apple's powerful MacBook Pro lineup, suggesting that the Cupertino, Calif., Mac maker may be forced to wait until 2015 when more traditional Broadwell chips become available from Intel.
However, it is possible that a Broadwell Core M chip could find its place in Apple's rumored MacBook Air redesign. Reports have claimed that the company is working on a revamped 12-inch model with a high-resolution Retina display.
KGI Securities analyst Ming-Chi Kuo has claimed that the new MacBook model will sport a fan-less design with fewer inputs and outputs, and a new click-less trackpad. Those elements could be well-suited for Intel's Broadwell Core M chips, unlike the MacBook Pro.
Still, Apple's MacBook Air with Retina display remains a rumor. And with no concrete leaks regarding the device, including any sign of components or specific details, it's uncertain whether such a device will make it to market before the end of 2014.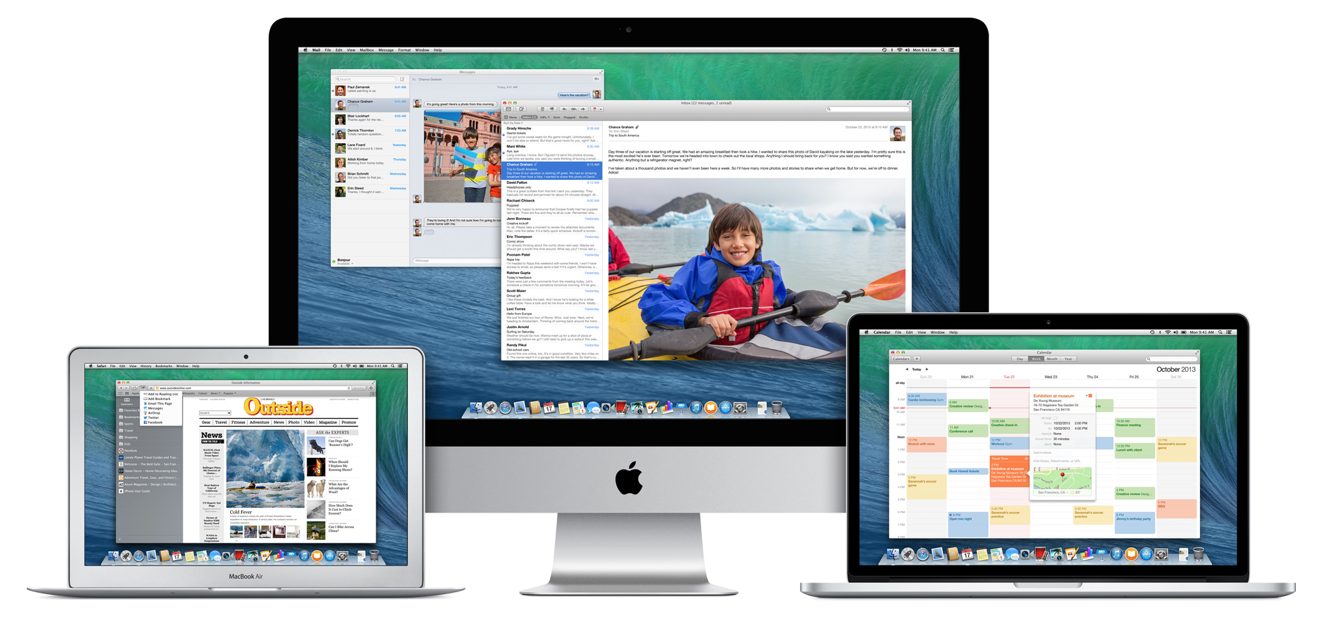 But Intel has said that devices running 14-nanometer Core M chips will arrive in limited quantities this year. While the first Core M computers will be on store shelves for the holiday shopping season, "broader OEM availability" won't happen until the first half of 2015.
Regarding traditional Broadwell chips that would be suited for Apple's popular MacBook Pro lineup, Intel simply said on Monday that products based on the upcoming architecture and 14-nanometer process technology "will be introduced in the coming months." The lack of details from Intel, along with rumors of a Broadwell delay, seem to strongly suggest that more powerful Broadwell chips may not hit the market until next year.
Broadwell is the codename used to refer to a 14-nanometer die shrink of Intel's existing 22-nanometer Haswell architecture. Intel says its new, smaller designs will bring a 30 percent reduction in power consumption while offering the same horsepower.
Faced with a lack of significant chip upgrades from Intel, Apple this year has slashed prices and instituted minor speed bumps with updates to its MacBook Pro, MacBook Air and iMac lineups. So far, the company's strategy appears to be working, as Apple set a new June quarter record thanks to cheaper MacBook Air models.