One year after Apple's A7, Nvidia announces first 64-bit ARM CPU for Android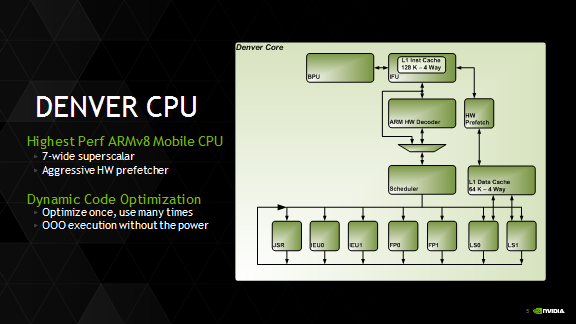 AppleInsider is supported by its audience and may earn commission as an Amazon Associate and affiliate partner on qualifying purchases. These affiliate partnerships do not influence our editorial content.
Chipmaker Nvidia on Tuesday detailed the new "Denver" variant of its Tegra K1 mobile processor, a high-performance in-order design that represents the first foray into 64-bit processing for Android devices — Â nearly a full year after Apple shocked the mobile world with its own 64-bit A7 processor.
Denver combines Nvidia's popular Kepler GPU with a new 64-bit dual-core CPU, the company's first in-house CPU design. Like Apple's A7, Denver is compatible with the ARMv8 architecture.
The chip also packs a 4-way, 128-kilobyte L1 instruction cache alongside a 4-way, 64-kilobyte L1 data cache and a 16-way, 2-megabyte L2 cache. Nvidia says each Denver core is capable of processing up to seven operations per clock cycle, compared with a reported six instructions per clock for the A7 and just three per clock for the 32-bit Tegra K1.
With Denver, Nvidia is touting a new architectural addition known as Dynamic Code Optimization. Using DCO, the CPU will "translate" oft-used ARM code into microcode and cache those instructions in a dedicated 128-megabyte translation buffer — the company said this can "effectively double" the performance of the base silicon.
There is no word on which device will be the first to ship with Denver, though Nvidia does promise full pin compatibility with 32-bit Tegra K1 variants for easier integration. The first 64-bit version of Android is currently in testing and is slated for release this fall.
Chipmakers have been scrambling to catch up with Apple's 64-bit A7, which the company unveiled alongside the iPhone 5s in September of last year. The chip's surprise introduction was said to have left industry insiders "slack-jawed, and stunned, and unprepared."
"Apple kicked everybody in the balls with this," a Qualcomm employee said at the time. "It's being downplayed, but it set off panic in the industry."