Sketchy report claims photos show 5.5-inch 'iPhone 6L' display, logic board and 2,915mAh battery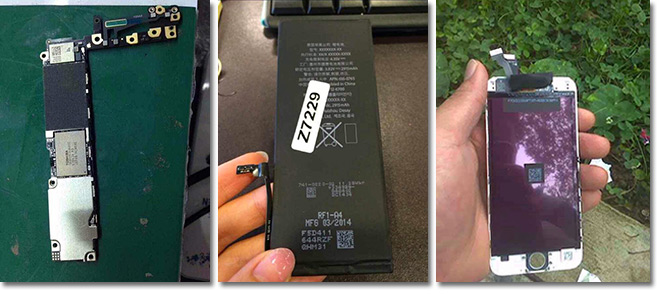 A highly questionable report out of the Far East on Friday includes photos of what are claimed to be parts from Apple's rumored 5.5-inch "iPhone 6," including a display and logic board curiously similar to "leaked" components associated with a rumored 4.7-inch model.
Citing the usual "reliable sources," Taiwanese Apple blog Apple Daily says the images show three components bound for Apple's rumored 5.5-inch iPhone, which some predict will launch alongside — or shortly after — a new 4.7-inch version of the smartphone. The publication's sources refer to the phablet as the "iPhone 6L."
However, even a cursory inspection of the photos reveals two parts, the display and logic board, are nearly identical to those pictured in previous reports related to the smaller of Apple's next-gen handsets.
With the display, architectural elements like screw bosses, circuit board anchors and circuitry are placed in the exact locations as a part revealed last week. In addition, flex cables are of the same size, located in the same position and feature proportionally sized connectors as the supposed 4.7-inch variant.
It is highly unlikely that a 4.7-inch iPhone would share the same layout with a sized-up 5.5-inch model, while at the same time sporting different sized connectors.
As for the logic board, this part too lines up perfectly with a component unearthed yesterday, complete with identical EMI shields, fastener holes and connector design.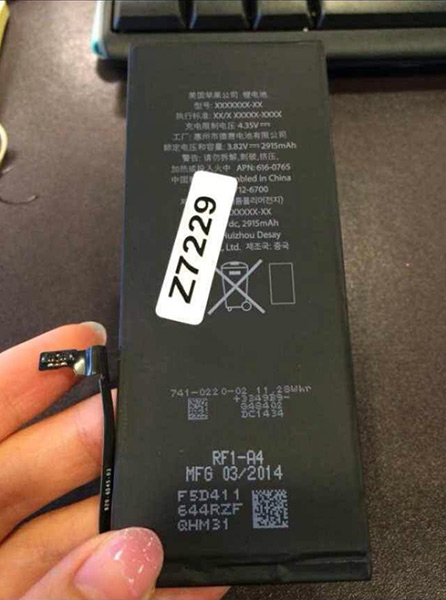 The report does, however, contain one never-before-seen part in a 2,915 mAh battery, which could feasibly be bound for Apple's jumbo-sized handset. Produced by known Apple partner supplier Huizhou Desay, the battery'a capacity is much larger than the 1,800 mAh unit seen in a supposed leak associated with the 4.7-inch variant. By comparison, the current iPhone 5s uses a 1,500 mAh battery, while Motorola's 4.7-inch Moto X boasts a 2,200 mAh part.
Although the battery is a possible fit for Apple's 5.5-inch iPhone, not much is known about the phablet device. Most recently, photos of alleged wake/sleep flex cables and volume controls hit the Web in July.