iPhone 6, iPhone 6 Plus preorder delivery dates slip as AT&T sees biggest-ever pre-sale launch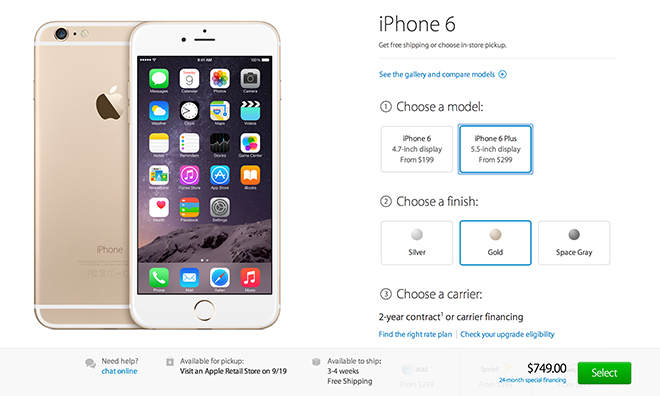 Exactly one day after preorders for went live, demand for Apple's iPhone 6 and iPhone 6 Plus remains high, as evidenced by continued slips in shipping estimates and the announcement of a record-breaking preorder launch from AT&T.
As reflected on the Online Apple Store, launch day preorders for the new iPhone are going fast, with many 4.7-inch models showing 7 to 10 day ship-by dates and all allotted 5.5-inch iPhone 6 Plus stock sold out.
The iPhone 6 Plus was the first to see preorder shipping estimates pushed back shortly after the unit became available Friday morning. Current U.S. Online Apple Store estimates are showing ship-by dates of 3 to 4 weeks for all iPhone 6 Plus options, a scenario mirrored in many international stores.
As for the 4.7-inch iPhone 6, AT&T, Verizon, Sprint and T-Mobile still have a few color and capacity combinations available for delivery by Sept. 19, though supplies are being rapidly depleted. It is unclear at this time if launch supply for the iPhone 6 Plus is constrained or consumer interest in the phablet device is grossly outstripping that of the 4.7-inch model.
Pent-up demand for the latest iPhones continues to set records for both Apple and its partner wireless carriers, and AT&T late Friday announced record-breaking preorder sales.
"This is our biggest iPhone, pre-order launch day ever," AT&T Mobility CEO Glenn Lurie said in a prepared statement.
Earlier in the day, Apple itself reported that overnight iPhone preorders set a new record for the company.
When preorders for the iPhone 6 kicked off on Friday, the onslaught of customers caused server congestion issues for both Apple and its partner resellers. The issue was so severe that Apple resorted to taking reservations for later processing instead of completing transactions in realtime. The company's online storefront was also down for the initial preorder period, prompting iOS device owners to place orders through the Apple Store app.
Although online preorders are selling out, customers still have a chance to grab an iPhone 6 or iPhone 6 Plus on launch day by visiting brick-and-mortar Apple Stores, which will have limited supply on hand for walk-in buyers.