Apple pulling HealthKit-enabled apps from the App Store - report [u]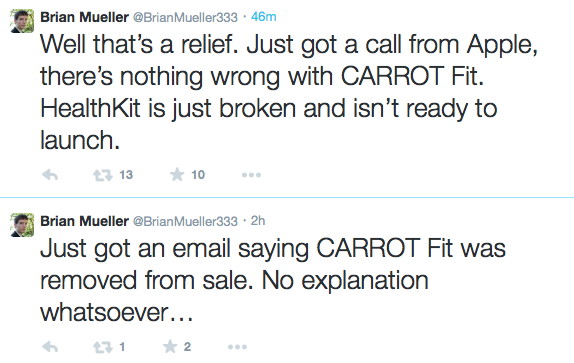 With the public release of iOS 8 looming, Apple has begun removing apps that take advantage of the new HealthKit API from the App Store, a move that is said to have been prompted by ongoing problems with new health data tracking system.
Developer Brian Mueller, maker of fitness motivation app Carrot Fit, said on Twitter that he received a call from an Apple representative following his app's removal from the store Thursday morning. That representative indicated that HealthKit was the cause, and Mueller could resubmit a version of Carrot Fit sans the new framework.
"Sounds like HealthKit won't be working at all this week," Mueller subsequently wrote. "And there's no ETA for when a bug fix will go live."
HealthKit, announced at June's Worldwide Developers Conference in San Francisco, is a tentpole feature of iOS 8. Its delay could explain the absence of any major HealthKit-related new at last week's iPhone 6 introduction — Minnesota-based healthcare provider Mayo Clinic had been rumored to appear at the event in support of HealthKit, but did not take the stage.
HealthKit would not be the first iOS 8 feature to have its release pushed back. SMS continuity, which would allow users to answer SMS messages received on their iPhone from their iPad, was recently pushed to October and its eventual release is likely to coincide with the general availability of OS X Yosemite.
Update: Apple has confirmed the HealthKit "bug" to Financial Times reporter Tim Bradshaw, who tweeted the email correspondence below. The company plans to have a fix in by the end of September.