Goodbye, Camera Roll: Where to find your photos in iOS 8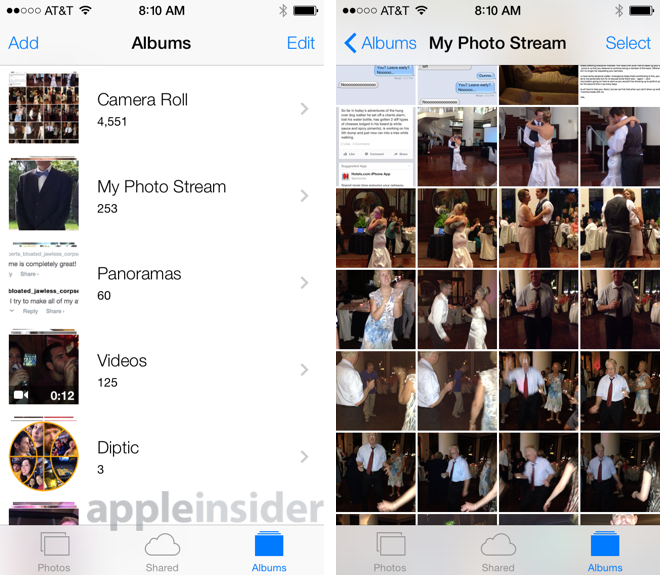 Apple has reimagined the way photos are stored on your devices with iOS 8, but it has become a source of confusion for users and causes compatibility problems with some third-party apps. AppleInsider took a look at where your photos have gone and how to find them again.
The Camera Roll has been around iOS since late Apple CEO Steve Jobs pulled the first-generation iPhone out of his pocket on stage in San Francisco. It was a simple concept: an infinite list of every photo you've ever taken.
Until now, nearly every interaction with photos on an iOS device was done through the Camera Roll. Showing vacation pics to your friends? Camera Roll. Choosing a selfie to upload to Facebook? Camera Roll.
As of iOS 8, the Camera Roll is no more. This alarmed many users who thought their photos had disappeared following the update, but fear not — Â your selfies are safe and sound.
The closest thing to the traditional Camera Roll is the Collections view, which can be found in the Photos tab at the bottom of the Photos app. Collections organizes snaps into Moments based on their capture date and the location where they were taken, which actually makes it easier to find a specific shot from the past.
The Collections view can be a bit unwieldy when looking for photos that you took recently. For that, Apple will show photos taken in the last 30 days inside a new Recently Added album in the Albums tab.
Unfortunately, this presents a problem for third-party apps — Â like Facebook — that haven't been updated with the new photo storage paradigm in mind. Those apps will show the Recently Added album as though it were the Camera Roll, so the only way to share older photos is to create a new album and manually move the shots over.