Hands on: unboxing and sizing up Apple's new iPhone 6 & 6 Plus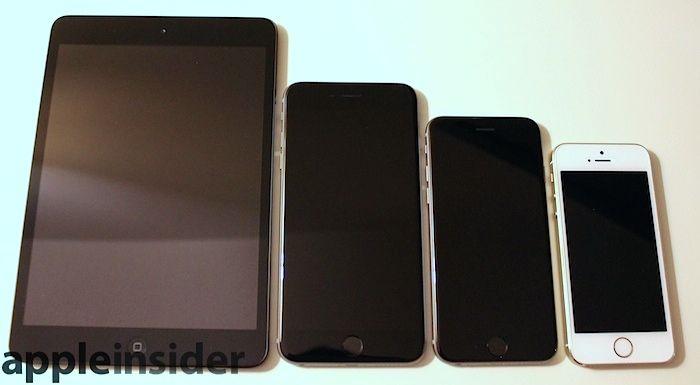 Apple's latest iPhone 6 and iPhone 6 Plus are most obviously larger than previous models. However, the new phones aren't just bigger, they're also thinner and have a rounded edge that makes them feel less bulky than other phones with big screens.
Compared alongside the 4 inch iPhone 5s, the new 4.7 inch iPhone 6 and 5.5 inch iPhone 6 Plus look a lot bigger, although they're not nearly the size of even the 7.9 inch iPad mini.
iPhone 6 unboxing
While otherwise fancier all around, the new iPhone 6 and 6 Plus ship in a plain white box with a simple embossed shape. Inside the box, there's the same EarPod headphones, Lightning cable and small 1amp (i.e. slow) USB charger.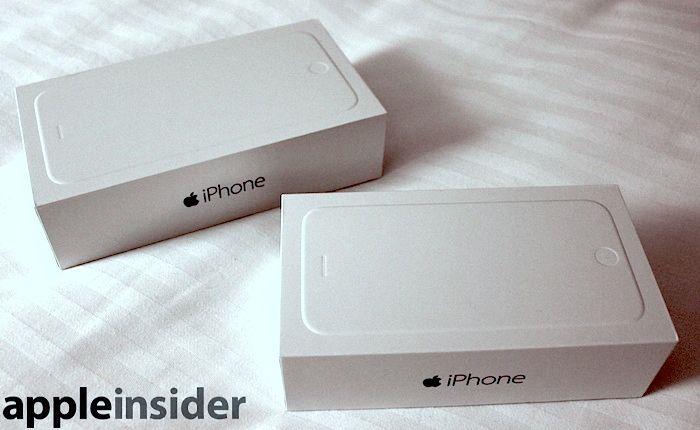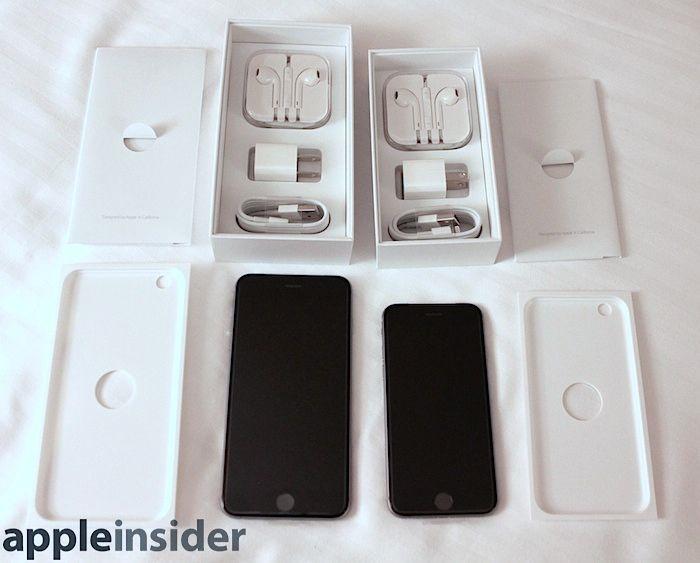 iPhone 6 vs iPad, iPhone 5
iPhone 6 is not only larger, but introduces an entirely new industrial design that looks and feels not only more modern but more practical and functional.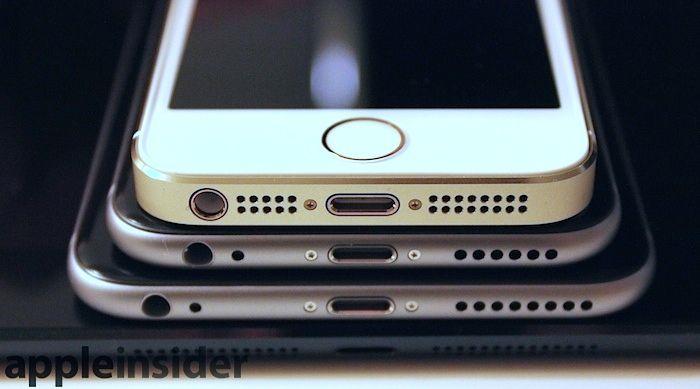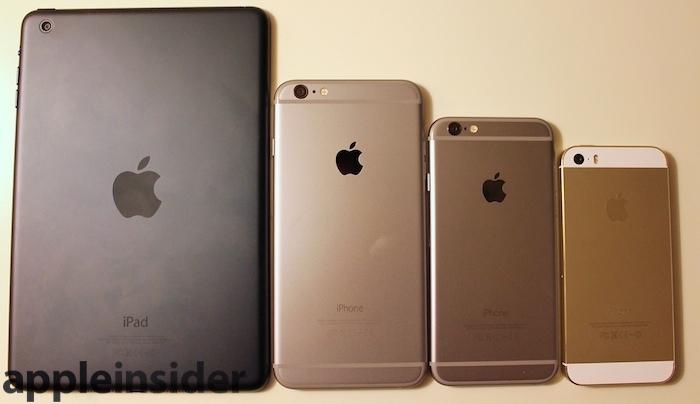 The additional, higher resolution of the new "Retina HD" displays allows for an extra row of app icons (6 rows on iPhone 6, compared to 5 on iPhone 5 models and 4 on iPhone 4 and earlier models), while app developers can revamp their titles to make additional use of the extra pixels.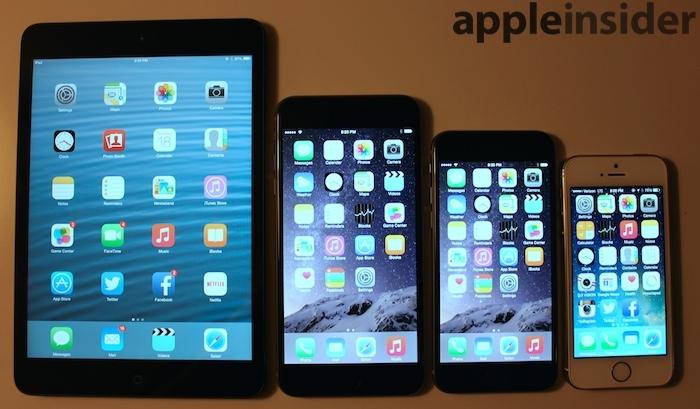 iPhone 6 vs 6 Plus
Here's an idea of how big the phones look in your hand (well, my huge hand). We may well look back on smartphones in ten years and ask "what were we thinking?" with the size of big phones, but a lot of us increasingly use our phones as pocket computers more often that we actually hold it to our faces in conversation. And of course Bluetooth headsets have also become a popular option.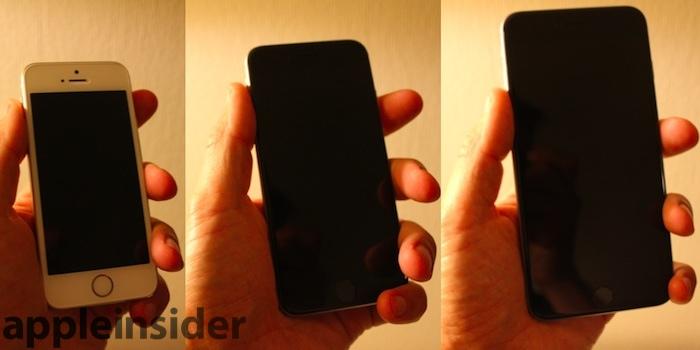 Here's a video showing how you can expect the new phones to fit in common pockets: jeans, dress pants and various jackets.
Phablet without the phlab
Android phones have been inching larger ever since 2010, the year Samsung and other iPhone competitors abandoned the idea of trying to sell smaller phones and started introducing phones with bigger screens and higher resolutions, beginning with the 3.7 inch Motorola Droid.
In 2012 Android phablets took off, with the Samsung Note II reaching 5.5 inches. However, to accommodate the large screen, Samsung shipped a device 9.4 to 9.7 mm thick and weighing over 6.3 to 6.5 ounces (180 to 185 grams). Samsung improved its phablet thickness and weight numbers last year to 8.3 mm, but is now getting larger again with the 8.5mm, 176 gram Galaxy Note 4.
Apple formerly maintained the thinnest flagship with the 7.6 mm thin iPhone 5s, while the HTC One hit 9.3 mm and Google's Motorola X and Nokia's Lumia 1020 both reached 10.4 mm.
Apple's iPhone line is now catching up in screen sizes, but not without major improvements in design and build to hide the heft and bulk normally associated with the "phablet" category. Apple's 4.7 inch iPhone 6 is just 6.9 mm thick and weighs only 129g, while the larger 5.5 inch iPhone 6 Plus is only 7.1mm thick and weighs 172 g.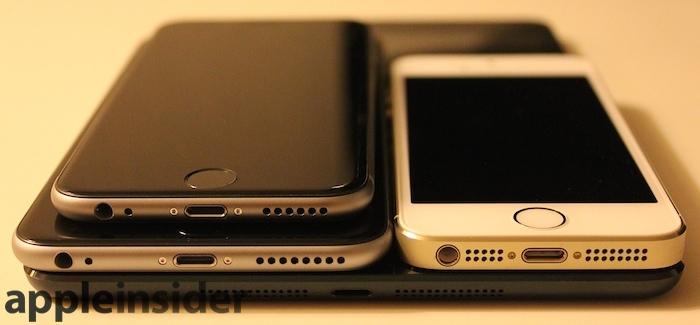 In other words, both of the new iPhone 6 models are thinner than the super slim iPhone 5s already was. They also sport a unibody aluminum shell with a new rounded edge design that makes them more comfortable to hold and frictionless to slide in your pocket. This really does hide much of the added size of both.
Rather than a chunky "phablet," the two new iPhone 6 models feel like modern and expansive versions of the familiar iPhone. The smaller iPhone 6 feels sort of "just right" for an iPhone while the larger 6 Plus initially seems oversized, as if too big to be real.
However, the more you use it, the more you might find it easy to like. The additional resolution allows for iPad-like user interface elements in Mail, Messages and other apps, and the Home screen also pivots to landscape (and even upside down), the first iPhone to behave in such a fashion.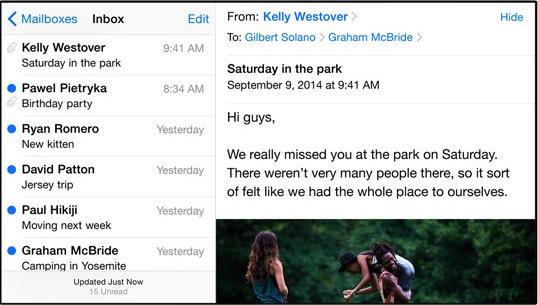 There's also Optical Image Stabilization on the iPhone 6 Plus, which is otherwise nearly identical in specifications to its scaled down sibling. The choice really comes down to size, and in particular how big you feel is too big. However, it seems Apple worked hard to make iPhone 6 Plus an alluring choice for a $100 premium, even for those of us who never thought we'd want a very big phone.
AppleInsider is preparing an in-depth review to cover the other details of the new phones, so be sure to post your questions in the comments so we can try to find answers.