TSMC confirmed as manufacturer of Apple's 20nm A8 processor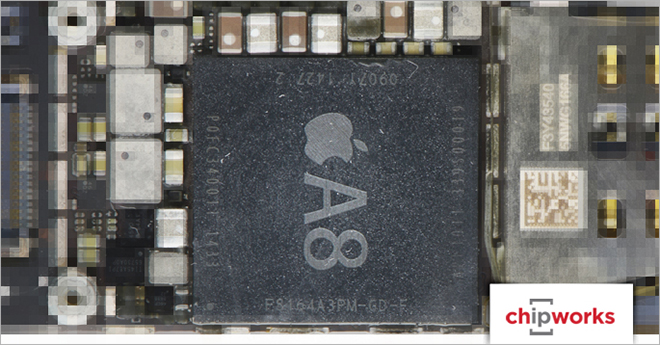 According to a report on Friday, Apple's latest 64-bit A8 system-on-a-chip, currently powering the iPhone 6 and 6 Plus, is built by Taiwan Semiconductor Manufacturing Co., not longtime partner Samsung.
Less than a day after Apple's latest iPhones made their worldwide debut, the team at Chipworks on Friday disassembled both models to take a closer look at the components inside, revealing an A8 processor fabricated by TSMC.
The finding confirms rumors from last year claiming Apple would switched away from Samsung foundries to TSMC, which employs a 20-nanometer CMOS process for the latest-generation A-series SoC. According to Chipworks, the A8's contacted gate pitch of around 90nm is consistent with Qualcomm's MDM9235, a chip known to be fabricated by TSMC.
Other substantial finds include previously unannounced NFC controller made by NXP that dates back to 2012. Chipworks cites insiders as saying the design was made exclusively for Apple, meaning the Cupertino company has had access to the silicon for at least 18 months.
In addition, Apple tapped InvenSense for the new iPhones' six-axis accelerometer and gyroscope, unseating previous supplier STMicroelectronics. Texas Instruments also makes an appearance with a haptics driver used to control the vibrator unit.
Sony is once again supplying the iSight chip, which in the case of the iPhone 6 and 6 Plus is the company's Exmor RS back-illuminated CMOS image sensor (CIS). As previously announced, the chip features 1.5-micron pixels on a die size of 4.8 mm-by-6.1 mm. Further, Chipworks discovered Apple's "Focus Pixels," or phase detection system, are implemented in the green channel.
The public got its first look at the components used to build the iPhone 6 and 6 Plus in a pair of teardowns late Thursday night.