First iPhone 6 & iPhone 6 Plus teardowns reveal high-capacity batteries, reworked innards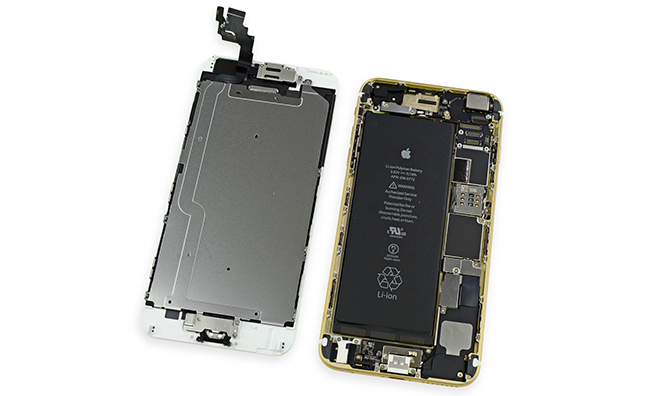 Coming just hours after Apple launched the iPhone 6 and 6 Plus on Friday, repair firms and blogs are already performing teardowns of the two handsets to reveal major component redesigns and layout tweaks necessitated by a super-thin form factor.
In Japan, Apple blog Mac Otakara has completely disassembled the 4.7-inch iPhone 6 version, revealing an intricately designed interior with all-new components squeezing into a slightly revamped layout.
As seen in the video below, Apple was forced to make concessions in designing the ultra thin handset. For example, the 1,810mAh battery is now fastened to the aluminum chassis via adhesive tabs, a major change that sits somewhere between removable batteries from past iPhones and glued-in power packs from the current iPad lineup.
A variety of components have been redesigned or otherwise tweaked to fit within the 6.9-millimeter chassis, including the ear speaker, vibrator, iSight camera module and display, which now appears to be bonded to the front cover glass.
Looking at the parts piece-by-piece, it is clear that a majority of previously rumored components leaks were indeed accurate, including reports concerning the iPhone's logic board, Touch ID, metal harnesses, flex cables and more.
As with the 4.7-inch model, the iPhone 6 Plus features a relocated — and redesigned — vibrator motor, which now sits to the right of the battery. Apple appears to be using a linear oscillating type vibrator instead of the rotating mass unit found in the iPhone 5s. Unlike the linear oscillator found in iPhone 4S, the iPhone 6 Plus unit is rectangular.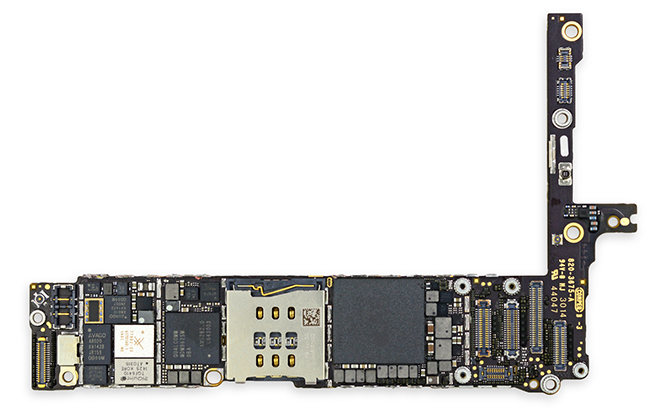 Moving on to the logic board, Apple's new A8 SoC is easily spotted just above the phone's nano-SIM reader, while a Hynix NAND flash module resides on the flip side. Other notables include Qualcomm's MDM9625M LTE-Advanced modem with support for carrier aggregation, two baseband chips from Avago, Triquint amps and silicon from usual players Skyworks and Broadcom.
The repair firm gave the iPhone 6 Plus a repairability score of 7 out of 10, citing the use of pentalobe screws and the fact that Apple does not share repair information outside of its authorized service network.
Editor's Note: This article was continuously updated during the teardown process.