Apple's A8-powered iPhone 6 & 6 Plus impress, outperform competing phones in benchmarks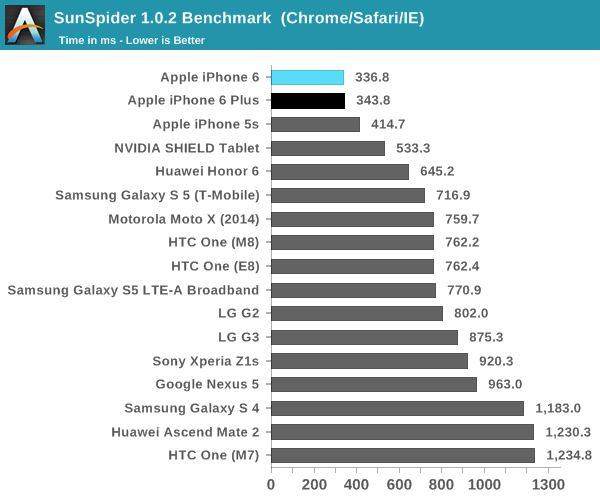 The new silicon at the heart of Apple's recently-released iPhone 6 and iPhone 6 Plus has increased the company's lead in smartphone application processor performance, according to data released on Monday, with the A8 improving on the already industry-leading 64-bit A7.
The iPhone 6 saw an impressive 13 percent bump in performance over the iPhone 5s on the SunSpider browser performance benchmark, according to AnandTech. Other CPU-bound benchmarks followed a similar trajectory, with the iPhone 6 or 6 Plus leading the way in all but one category.
In light of the results, the publication reiterated its previous stance that the A8's performance improvements are unlikely to be the result of its 100 megahertz clock speed bump alone. At the time of the A8's announcement, the group wrote that Apple is likely to have "enhanced or otherwise significantly optimized" the A8's processor core, which would represent "a significant accomplishment" given the time frame involved.
Apple's latest handsets posted a more up-and-down showing when it came to GPU performance, finishing near the bottom of the pack in a physics simulation, while besting all but Nvidia's Shield tablet in most other areas. Overall, they showed "a pretty solid lead over the competition for the iPhone 6/A8."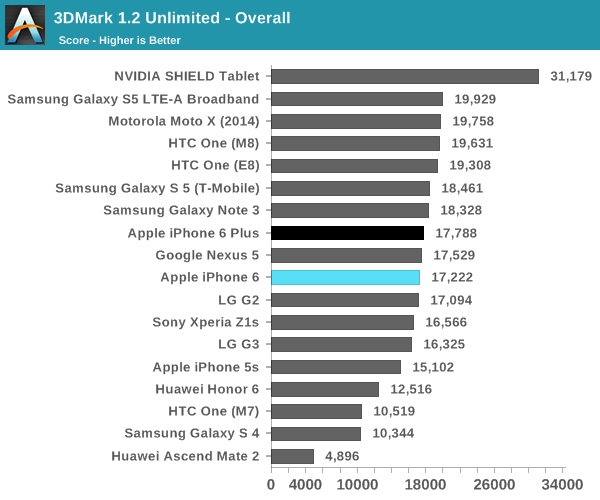 One area of concern was the GPU performance of the iPhone 6 Plus. The 5.5-inch device — Â which renders content at 2208-pixels-by-1242-pixels before downsampling to 1920-pixels-by-1080-pixels — Â was more sluggish, which AnandTech posits is due to the required high-resolution rendering.
Finally, battery life was found to be "quite incredible." The iPhone 6's 11 hours of web browsing battery life was "a step above just about every other Android smartphone on the market," while the iPhone 6 Plus bested all but Huawei's 6.1-inch Ascend Mate 2 by at least two hours.