Apple's A8 SoC likely carrying new 6-core PowerVR GPU, clocked at 1.4GHz with 1GB RAM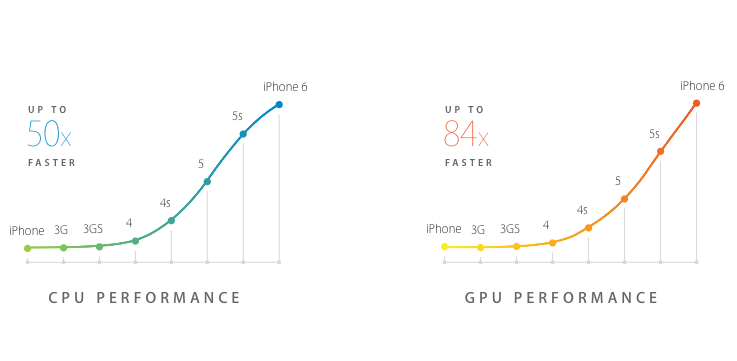 Apple boasts of massive performance improvements in its latest A-series processor — up to 84x over the first-generation iPhone — and the company is thought to have achieved those gains by moving to a new 6-core GPU design alongside a slightly redesigned application processor, data suggests.
The A8 that sits at the heart of the iPhone 6 and iPhone 6 plus is likely equipped with Imagination's six-core PowerVR Series6XT GX6650, according to analysis from AnandTech. The GX6650 is the only PowerVR part that could both match Apple's claimed performance improvements and supports OpenGL's Adaptive Scalable Texture Compression, which Apple developer documents say is available with its next-generation graphics processors.
ASTC is a relatively new standard for texture compression that allows GPU vendors to make their chips more power efficient, while still maintaining high levels of performance. The codec can compress nearly any texture, no matter the format, and output in a wide variety of bitrates that can be varied based on performance requirements.
Meanwhile, the application processor is believed to run on a modified version of the Cyclone architecture introduced with the A7. Based on Apple's presentation last Tuesday, AnandTech believes that benchmarks leaked shortly before the iPhone 6's introduction are legitimate, placing the clock speed of the A8 at 1.4 gigahertz.
That would be a mere 100 megahertz increase over the A7, a bump that the publication believes is not enough to account for the A8's upgraded performance. Instead, Apple is likely to have "enhanced or otherwise significantly optimized" the A8's processor core, which would represent "a significant accomplishment" given the time frame involved.
One thing that is unlikely to have changed is the built-in RAM allotment, which is thought to have held steady at 1 gigabyte. Apple has not increased the amount of RAM since moving to 1 gigabyte with the iPhone 5, despite advancements in nearly every other area.