Apple announces 'AirDrop Test Fest' to flush out issues ahead of OS X 10.10 Yosemite release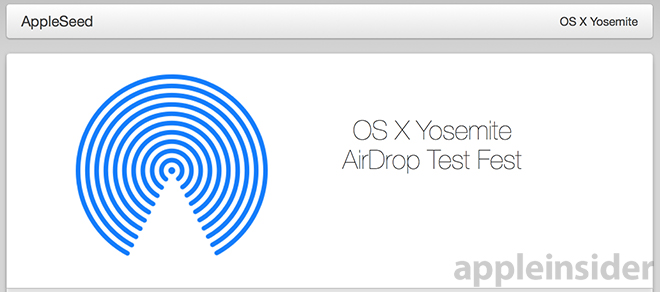 In a note sent out to developers on Wednesday, Apple invited AppleSeed members to participate in a "test fest" focusing on AirDrop functionality in OS X 10.10 Yosemite, which bakes in compatibility with devices running iOS 8.
Apple usually restricts test fest activities to internal teams working on upcoming OS X software, but has decided to bring AppleSeed developers into the fold in preparation of OS X Yosemite's launch this fall.
According to the letter, the company has set up a special discussion topic to handle observations and test results, as well as a survey created to guide developers in specific feature testing. The directed focus suggests there are areas of concern that need to be ironed out before the final Yosemite build is released to the public. The survey is available through Feedback Assistant.
Finally, to help flag issues, those opting in to the test fest will be provided with information regarding the correct way to write up AirDrop bug reports.
AirDrop is one of Yosemite's tentpole features and offers users the ability to quickly transfer files and media between OS X and iOS platforms without taking extra steps like sending content through email. Like iOS 7 and OS X 10.9 Mavericks implementations, the next-gen AirDrop iteration still uses Wi-Fi connectivity to ferry data back and forth, but adds in Bluetooth 4.0 for quick device discovery
When accessed from Control Center in iOS 8, AirDrop automatically gathers a list of nearby machines — including Mac running Yosemite — with which content can be shared. The desktop version also has a dedicated Finder window to transport files from Mac to iPhone or iPad.
AppleSeed members are already taking part in the AirDrop Test Fest, which started at 12 p.m. Pacific today and is scheduled to run through Sunday, Sept. 28.