PopKey GIF keyboard for iOS 8 debuts, Tweetbot adds support for iPhone 6 & interactive notifications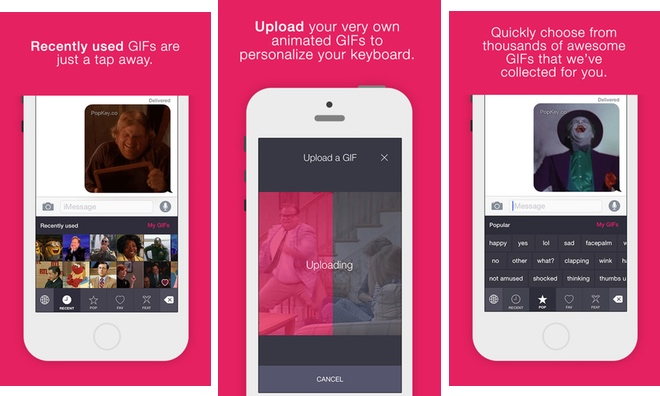 Users looking to get the most out of their newly updated iOS 8 device can download a pair of apps that were made available Wednesday: the PopKey keyboard for convenient access to animated GIF images, and Tweetbot with support for the larger iPhone 6 and iPhone 6 Plus displays as well as interactive notifications.
PopKey GIF keyboard debuts
The PopKey animated GIF keyboard is a free download for iOS 8 devices. Like other third-party keyboards, it can be accessed systemwide, allowing users to easily send animated GIFs via text message, email and more.
If users are willing to create an account and refer a friend, they can even upload their own GIFs to be used with the keyboard. Otherwise, popular animations are listed and sorted by category and feature a "PopKey.co" watermark.
Users can also favorite their most-used GIFs, and a list of recently sent files is also available. Once a GIF is selected, it is downloaded and then copied, and a user can paste it into the appropriate field.
PopKey requires iOS 8 and supports the iPhone 4S and higher. Alternatively, users can also try out the iOS 8 Riffsy GIF Keyboard, which is also free.
Tweetbot 3 gets major update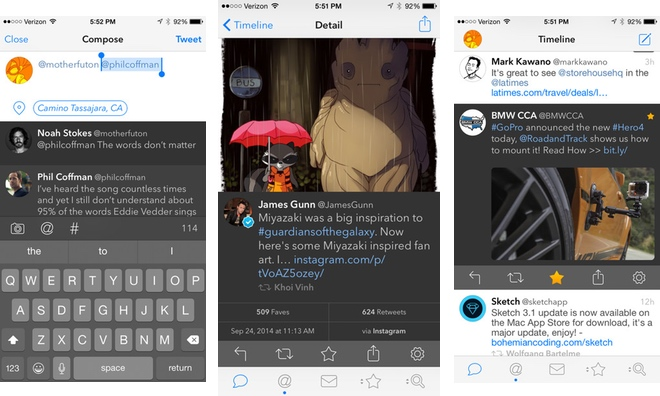 Popular Twitter client Tweetbot 3 received a major update on Wednesday, taking advantage of a number of features made available through iOS 8. In addition to offering interactive notifications, Tweetbot 3.5 also sports 1Password support for secure password storage.
Tweetbot's 3.5 update also adds Share Sheets support, allowing users to quickly plug in quick links to the app through iOS 8's extensions feature.
The updated Twitter client is also optimized for both the 4.7-inch display of the iPhone 6, and the 5.5-inch screen found on the iPhone 6 Plus. Developer Tapbots said the update, which requires iOS 8.0 or later, also features various bug fixes.
Tweetbot 3 is a $4.99 download on the iOS App Store.