Reservations for Apple's iPhone 6, 6 Plus in China reportedly hit 2 million in first 6 hours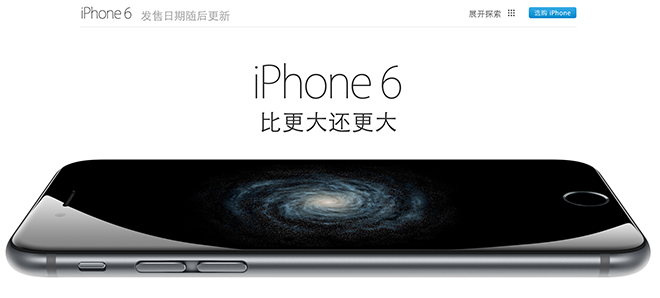 AppleInsider may earn an affiliate commission on purchases made through links on our site.
News outlets in mainland China are reporting that initial reservations for Apple's new iPhone 6 and 6 Plus models across retailers and the nation's three mobile carriers have reached the two million mark.
ITHome and Sina have both reported "incomplete statistics" stating that retailers and carriers have booked more than 2 million reservations just six hours after opening their queues.
The report also noted that the majority of initial bookings have been 64GB iPhone 6 and 6 Plus models (both priced at nearly $1,000), rather than the cheapest tier Apple offers.
Previous reports on black market smuggling have similarly indicated that buyers were paying extreme premiums for the larger model and for gold finish, two options Apple appears to have made available with the Chinese market expressly in mind.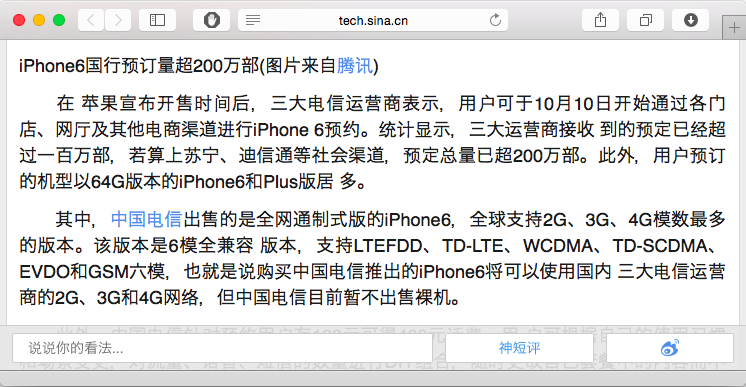 Apple itself issued a press release yesterday stating that preorders from its own online store wouldn't begin until Friday October 10, and that buyers could reserve the new iPhones beginning Tuesday October 14 for in-store pick-up starting Friday October 17.
The company's press release also said that actual sales by carriers China Mobile, China Telecom and China Unicom and from Apple Authorized Resellers wouldn't begin until October 17, but that does not appear to have stopped all three carriers and several major retailers from booking preorders early.
Apple's suggested retail price of for the new iPhone 6 is 5,288 RMB ($861 US) for the 16GB model, 6,088 RMB ($991) for the 64GB model and 6,888 RMB ($1122) for the 128GB model, while iPhone 6 Plus is priced at 6,088/6,888/7,788 RMB ($991/1122/1269) at the same three capacities.
US pricing for unlocked iPhone 6 is $649/749/849 and iPhone 6 Plus is $749/849/949 for the same three storage options, making the Chinese prices between $212 to $173 higher than U.S. prices (which do not include sales tax, which varies by state).
Apple's initial iPhone 6 sales exceeded ten million over the new models' first weekend, a figure that unlike last year did not include sales from mainland China due to a delay in approvals from the state government.
In March, Chinese market research group Umeng detailed that while "the market for budget Android phones is strong in China" and that 57 percent of phones sold cost less than $330, Apple has sold 80 percent of all phones priced above $500, a segment that made up 27 percent of smartphones sales.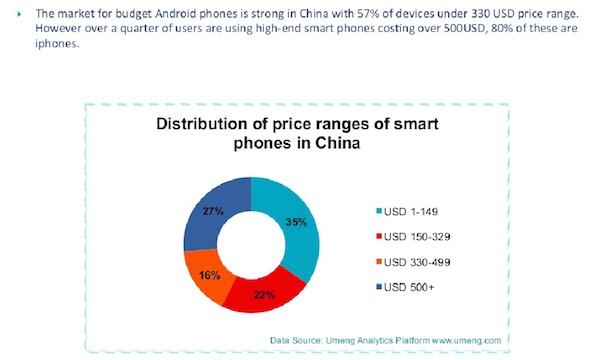 At the time, the cheapest phone Apple was selling was iPhone 4S at $535. Apple now sells iPhone 5c for that price, while two models of iPhone 5s (16/32GB) are now priced at $731 and $796.
Umeng also noted that the market for Chinese users entirely new to smartphones is shrinking, and that a much larger percentage of smartphones are now upgrades for existing users, a trend that would appear to benefit higher end devices rather than cheap, entry level offerings.