Apple expected to begin selling iPhone 6 in China on October 10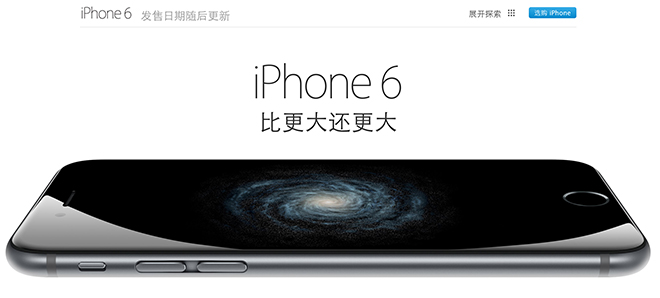 Reports from the People's Republic of China indicate that Apple is preparing to introduce iPhone 6 and iPhone 6 Plus on October 10, following final approval from the Ministry of Industry and Information Technology.
A series of reports from China have pointed to iPhone 6 sales beginning on Friday, October 10. The date was most recently supported by a store preparation timeline presented to retail employees in an internal training course.
The information points to product readiness and employee training that begins October 7 to support initial sales three days later.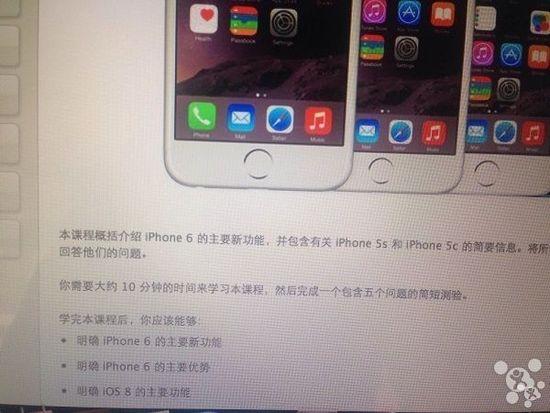 Apple wants to begin selling its new iPhone 6 in China to include initial sales in its fiscal Q1 holiday quarter, which will be compared to last year's blockbuster quarter with revenues of $57.6 billion, $8.8 billion of which came from Greater China (a super region that includes Hong Kong and Taiwan, both of which are already selling the new iPhone 6 models).
Lower carrier subsidies will appear to make iPhone 6 cheaper
In the report by TechWeb, the 4.7 inch iPhone 6 was reported to be priced starting at 5288 yuan ($863, the same starting price as last year's iPhone 5s), while the 5.5 inch iPhone 6 Plus is expected to start at 6288 yuan ($1026).
However, a report by Bloomberg stated that under pressure of Chinese state regulators, carriers were lowering subsidies for new phone buyers.
That report stated that Chinese subsidies are paid over the length of users' contracts in the form of a monthly rebate applied to the user's mobile service cost, rather than as a lump sum when the user signs their contract, as is common in the U.S.
Due to the changes being mandated in China, the effective hardware price for users will double. However, the initial price users pay to get a new phone will actually be lower, starting at 4488 yuan ($732) rather than 5288 yuan. The carriers are said to be reducing their monthly discounts on voice service from 194 yuan ($31.66) to 136 yuan ($22.20).
While this move significantly reduces the overall subsidy (costing end users an additional 592 yuan ($97) over the length of their two year contract), it makes the initial purchase more affordable (800 yuan or $131 cheaper up front), which is virtually the opposite of American-style carrier subsidies.
Black market iPhone 6 units have been smuggled into the country to sell for twice the price, at around $1,900, while iPhone 6 Plus models can fetch as much as $3,250. The most popular colors are gold and space grey, which can command up to a $500 premium.
Final certifications and approvals
The two new models achieved China Compulsory Certification last week, but reportedly still needed network access licenses before they can go on sale. This year, the approval delay in China meant Apple's initial report of 10 million iPhone 6 models in three days excluded one of Apple's largest markets
Those licenses — which certify that the device is compatible with mobile networks — are issued by the Telecom Equipment Certification Center, China's equivalent of the U.S. FCC.
Last year, Apple launched iPhone 5s and 5c in China at the same time as the U.S. and a series of other major markets. This year, the approval delay in China meant Apple's initial report of 10 million iPhone 6 models in three days excluded one of Apple's largest markets.
One major difference in the two launches is that China's largest carrier China Mobile now has its TDD LTE network in place, after its initial activation earlier this year. Apple is also now supporting the additional 41 TDD LTE band (as well as a series of other new LTE bands) on the new models.