'Apple Events' channel for Apple TV goes live ahead of iPad event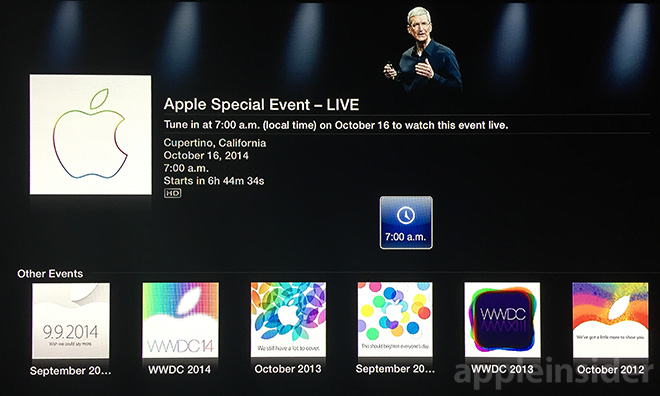 In preparation of its special media event on Thursday, Apple has activated the "Apple Events" Apple TV channel that will carry a live stream of today's proceedings, expected to include the debut of new hardware and software.
As seen in the picture above, the new Apple TV events channel is back, complete with the six-color Apple logo first seen on invitations sent out to press outlets last week. The page itself notes compatibility with high-definition televisions and includes a timer counting down to the event's start time at 10 a.m. Pacific.
Apple announced the live stream late last week, noting the "Apple Events" channel is compatible with second- or third-generation Apple TVs running Apple TV software 6.2 or later. Alternatively, those interested can visit Apple's live stream via Safari on both Macs and iOS devices.
At the Thursday event, Apple is widely expected to unveil new iPad Air and iPad mini with Retina display models with minor design tweaks, buffed internals and Touch ID. The company likely leaked its own unannounced product in a screenshot sample for the "iPad User Guide for iOS 8" manual published to the iBookstore on Wednesday.
Alongside new iPads, the next-generation OS X Yosemite operating system is expected to see public release, fulfilling Apple's promise of advanced iOS-to-Mac interoperability via so-called Continuity features. The OS is also getting a fresh coat of paint with added translucency and a substantially "flat" user interface.
Apple's iOS 8.1 maintenance update is also anticipated as the latest It is thought that the upcoming iOS update will activate Apple Pay for iPhone 6 and iPhone 6 Plus handsets, as Apple said the feature would roll out sometime in October.
Other potential hardware announcements could include a 27-inch iMac with Retina display and possibly refreshed Mac mini models.
Along with Apple's webcast, AppleInsider will be providing live coverage of the event starting at 10 a.m. Pacific, 1 p.m. Eastern.