More evidence of Apple Pay surfaces in latest iOS 8.1 beta release [u]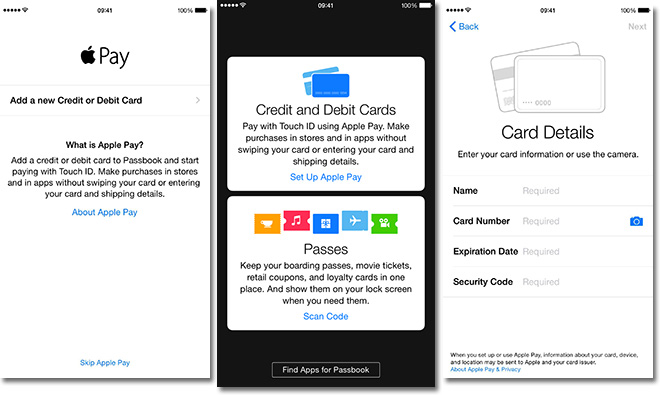 An Apple Pay setup screen discovered in the latest iOS 8.1 beta 2 suggests Apple's next iOS update will in fact debut alongside the company's much-anticipated mobile payments system, which uses NFC connectivity to conduct secure transactions via iPhone 6 and 6 Plus handsets.
The Passbook setup screens, which show options to enter credit card numbers and shipping addresses, was discovered by developer Hamza Sood, who subsequently posted the above screenshot to Twitter on Tuesday. While not unequivocal proof that Apple Pay will be baked in to the release of iOS 8.1, the credit card input option strongly hints that a rollout is coming in the near future.
Today's findings jibe with an Apple Pay details Sood uncovered within the Passbook settings menu of Apple's first iOS 8.1 beta, which was released in late September.
Apple Pay was announced at Apple's iPhone 6 event and is scheduled to roll out sometime in October. The touchless payments system marks Apple's long-awaited entrance into the digital wallet market and comes with support for Touch ID authentication, secure enclave credit card storage and tokenized transactions with point-of-sale terminals at select retail outlets. At launch, some 220,000 locations will accept Apple Pay.
Update: Additional pictures added to original story.