How to use Mail Drop and Markup to send large emails in OS X Yosemite
With OS X Yosemite, Apple introduced a host of useful features for creating and sending emails, including Mail Drop and Markup, which allows users to send messages up to 5GB in size and annotate attached files before sending.
With Mail Drop, Apple introduces a way to skirt the usual email size limitations by first processing and storing large attachments in iCloud, then adding a link to download the files in the original message. In practice, iCloud is acting as a go-between, with only the message text and iCloud link being sent across email service provider servers.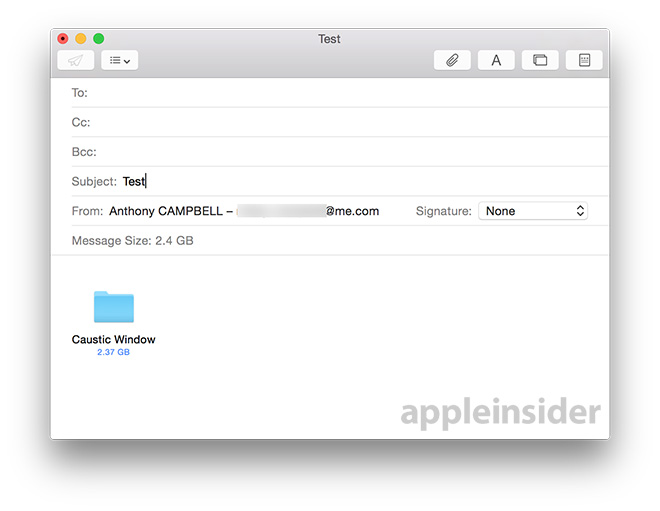 Using the feature is seamless to the Mail app experience. When creating a new email, simply click the paperclip icon to select files for attachment, drag-and-drop or right click on videos, images, ZIPs or other files to attach via share sheets. Sending multiple files is supported, but the combined total size must be below a 5GB threshold.
When a file is attached to a message, Mail displays total message size in an info row just below the "From" address line. The text dynamically changes from black to red if attachments go over the 5GB Mail Drop limit or, alternatively, the approximate limit for third-party providers.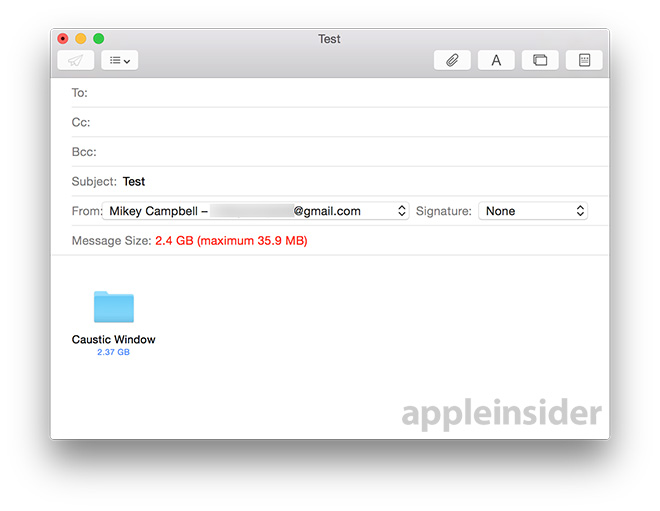 On the receiving end, Mail Drop messages are displayed just like regular emails and will include links to download content from Apple's iCloud servers. If the recipient is also using OS X Mail, videos or pictures may be automatically downloaded and displayed in line with message text, depending on user settings.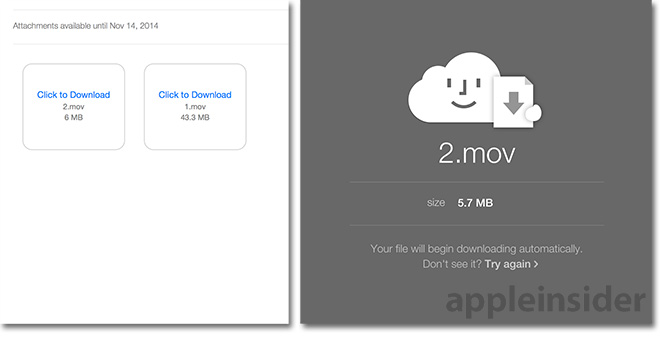 In addition to sending large files, the new Mail app incorporates an annotation feature called Markup. Using this tool lets users add text, drawings, shapes and even signatures to image files and PDFs before sending. The feature is especially helpful when collaborating on documents or adding in quick notations to a picture or proposal without opening another app.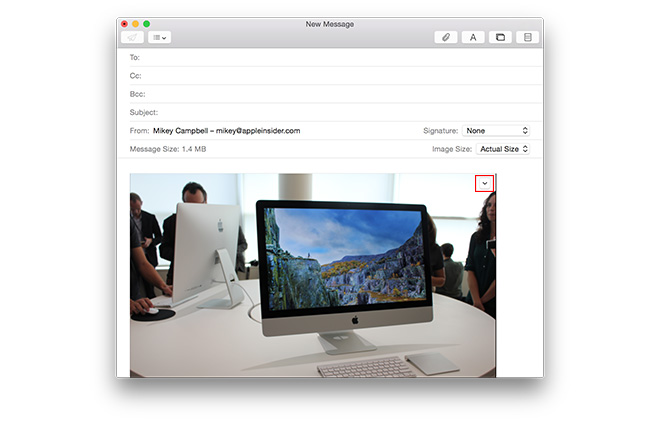 Markup is available directly from the email message window. When attaching images like the one above, a contextual extension pop-up button will appear in the top right corner. Selecting Markup from the menu will open the image in a separate window accompanied by a selection of tools. Alternatively, if you have other apps with extensions made available to Mail, they can also be selected at this time.
Apple's Markup includes range of tools from which to choose, like arrows, geometric shapes, loupes for zooming in on an image, text overlays and more. In many ways, the feature is akin to a stripped down image editor.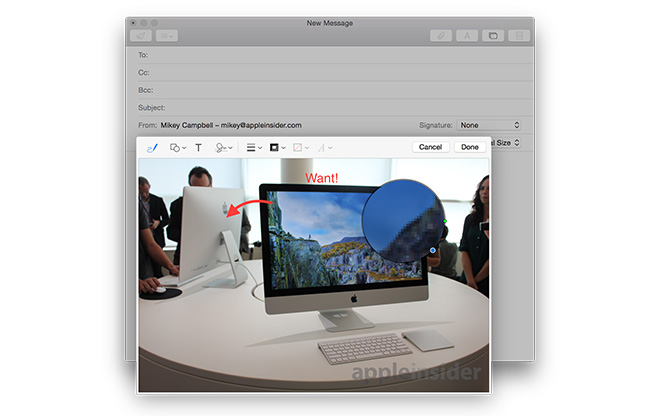 In the image above, we drew an arrow — which is automatically recognized and morphed into a vector shape — wrote "Want!" with the text entry tool and zoomed in on the iMac's screen with the loupe. Once added, shapes, text and other markings within the workspace can be resized, edited, moved or deleted.
Finally, Markup carries over the insert signature feature from Preview that lets users digitally sign documents. Users can create a signature by writing on a multitouch trackpad with their finger, or by taking a picture of a signed piece of paper with a Mac's FaceTime camera.