How to send and receive SMS text messages in OS X Yosemite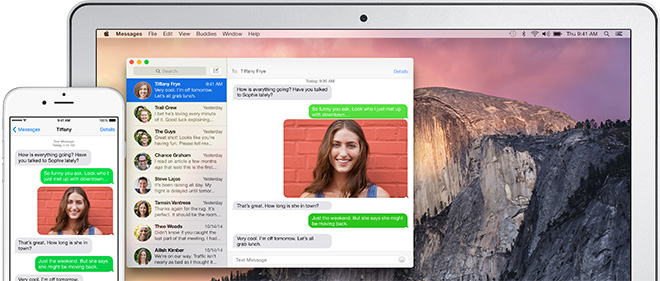 With today's release of iOS 8.1, Apple finally activated SMS text forwarding from iPhone to OS X Yosemite, allowing users to send, read and reply to messages directly from their Mac.
Part of Apple's Continuity feature package introduced with OS X Yosemite and iOS 8, SMS and MMS text forwarding promises access to cellular-based messaging from any one of the company's products, from iPhones to iPads, and now to Macs.
Text forwarding is by turned off by default, but enabling the feature is a straightforward process similar to connecting to and setting up an Apple TV.
Users first navigate to Settings > Messages on an iPhone running iOS 8.1, which was released earlier on Monday as a free over-the-air update. A new option called "Text Message Forwarding" appears just below iMessage toggle switch, with the text, "Allow your iPhone text messages to also be sent and received on other devices signed in to your iMessage account."
Selecting the option brings up a menu pane of devices capable of connecting with and transmitting text messages to and from your iPhone. In our example, the iPhone discovered a Mac Pro, Retina MacBook Pro and iPhone 5s. Text forwarding can be selected as on a per-device basis, meaning users have greater control over where messages are headed.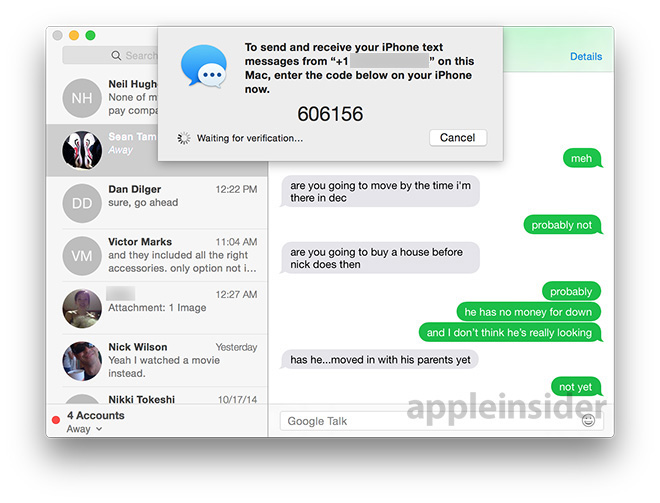 In the example above, we activated our MacBook Pro to receive text messages, which sent out a validation request that resulted in a six-digit prompt in Messages for Mac. Entering the passcode on the iPhone successfully pairs the two devices, allowing for receipt and sending of SMS and MMS messages.
When receiving a text from a number not stored in Contacts, a Notification Center alert will slide in with the originating phone number. You can reply directly from this window, just like incoming iMessages, or click on it to open the Messages app.
In testing, we found texts from numbers associated with an existing contact showed up with correct identification, though results were spotty. There were many times when a known number failed to trigger correct caller ID on the alert, but would later show up in line with iMessages from the same person.

As with iOS, text messages sent from Mac are shown in green as opposed to the usual blue bubbles, helping users keep track of text limits. A small informational line of text also appears in the conversation pane in Messages, denoting to what number the text is being sent or received.
In addition to Messages, users can initiate text conversations by highlighting numbers in other Mac apps like Safari, Calendar, Contacts or Spotlight. Share sheets also work with the new function, allowing rich content like pictures to be sent via MMS.