How to set up Apple Pay on an iPhone 6 or 6 Plus running iOS 8.1, and where you can use it right now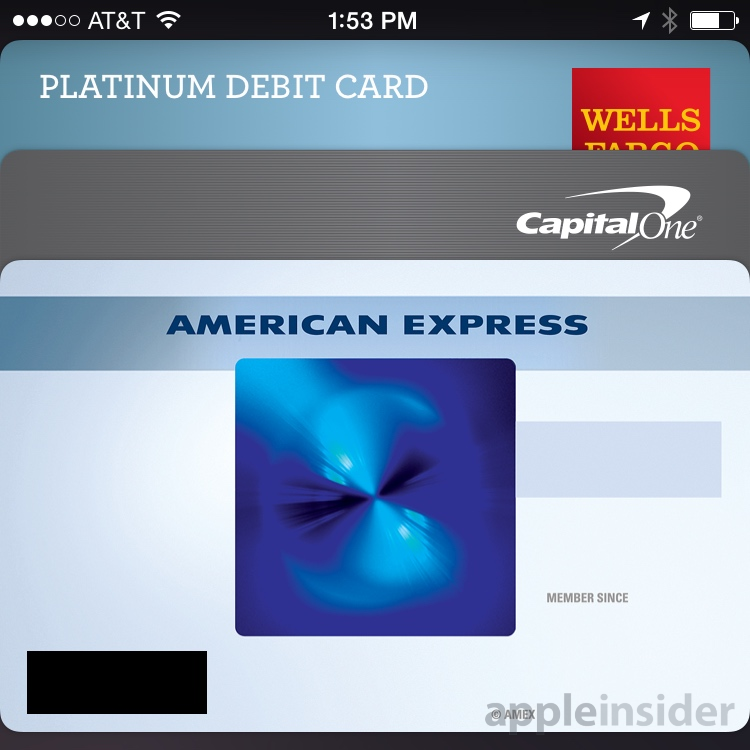 AppleInsider is supported by its audience and may earn commission as an Amazon Associate and affiliate partner on qualifying purchases. These affiliate partnerships do not influence our editorial content.
With Monday's launch of iOS 8.1, users can now begin adding their compatible credit cards to Passbook and start using their iPhone 6 or iPhone 6 Plus to pay at participating retail outlets. AppleInsider offers you a look at how to set up Apple Pay and where you can head out to use it.
Adding a card to Passbook for Apple Pay is simple: Press the plus button in the upper right corner of the app and choose to add a credit or debit card.
Tap the camera icon in the entry space and Passbook will scan what it can, including name, card number, and expiration date. If it doesn't pick up any of those, users must manually enter them. And manual entry of the card's security code is always required.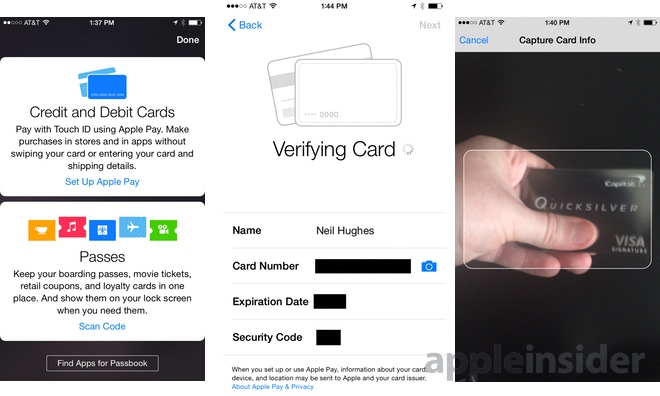 In our tests, nonconventional card designs, such as a Capital One Card which displays the numbers smaller and printed — not raised — Â in the bottom lefthand corner, needed manual entry.
After the card's information has been entered, users must accept the terms of service from their credit card.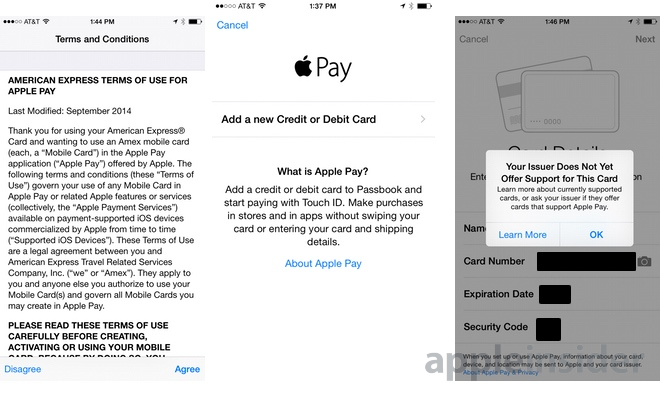 Some providers may also require a verification step — Â in our tests, Capital One required us to verify either via its official iOS application, or with an automated phone call. We didn't have the Capital One Wallet app installed, so Passbook automatically took us to the listing on the App Store.
Once your cards are entered and verified, they will be shown stacked virtually at the top of the Passbook app. Other items in the digital wallet, such as plane or event tickets and rewards cards, are shown at the bottom.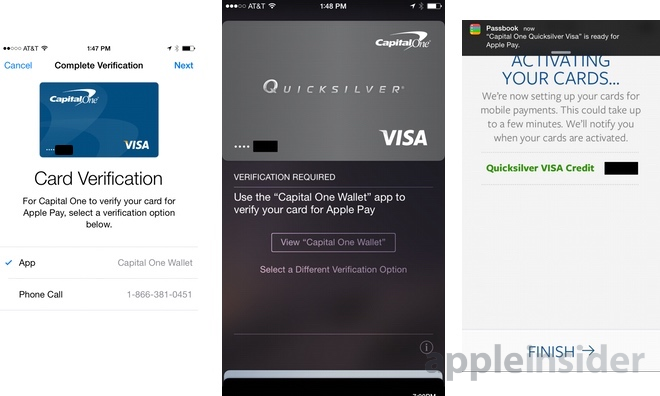 Credit cards in Passbook can be adjusted to display to your liking: Simply tap and drag a card to move it forward or backward in the view.
It's important to remember that Monday is just the beginning for Apple Pay. For example, store-branded credit cards for companies like Macy's or Amazon.com are not yet compatible.
In addition, while Apple Pay is currently at 220,000 stores that already accept contactless payments, there's a long way to go until NFC-based e-wallet transactions are the norm.
As of Monday, Apple advertises that its own retail stores are accepting Apple Pay. The following partners are also listed:
Aeropostale
Babies R Us
BJ's
Bloomingdale's
Champs Sports
Chevron
Duane Reade
ExtraMile
Foot Locker
FootAction
House of Hoops
Kids Foot Locker
Lady Foot Locker
Macy's
McDonald's
Nike
Office Depot
Panera Bread
Petco
RadioShack
Run by Foot Locker
Six:02
Sports Authority
Subway
Texaco
Toys R Us
Unleashed
Walgreens
Wegmans
Whole Foods
Finally, Apple Pay support is said to be coming later this year from the following retailers and locations:
Anthropologie
Disney Store
Free People
Petsmart
Sephora
Staples
Urban Outfitters
Walt Disney World