Video: Using Apple Pay in-store on an iPhone 6 is quick, convenient, and dead simple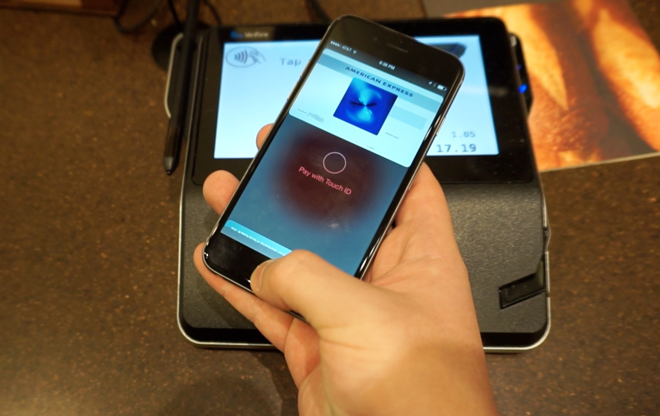 AppleInsider may earn an affiliate commission on purchases made through links on our site.
With this week's launch of iOS 8.1 and Apple Pay, shoppers can now use Apple's tap-to-pay functionality in the iPhone 6 and iPhone 6 Plus in a variety of in-store locations. AppleInsider offers a closer look at just how quick and easy it is to use the new digital payment system.
Following the launch of Apple Pay on Monday, AppleInsider gave the new near field communication-based e-wallet system a test at a variety of locations. In our experience, Apple Pay was as simple as could be.
We successfully used Apple Pay at Panera Bread, Walgreens and Toys R Us, and the system worked exactly as advertised. Simply placing our iPhone 6 close enough to the payment receiver would automatically cause the screen to display Passbook and our default credit card, with no need to unlock the phone or select anything.
Apple Pay prompts the user to place their finger on the iPhone's Touch ID fingerprint sensor. Because it uses NFC technology, it is exclusive to the iPhone 6 and iPhone 6 Plus.
While a user's default credit card (by default first one they scanned in to Passbook) is displayed, alternative cards that have been added to the system can be selected by tapping at the bottom of the screen.
Once the user's fingerprint has been identified, that's it. In our tests, the terminal immediately informed us that the transaction was successful.
In fact, in our three successful tests, it took longer for the employees at the register to hand us our receipt than it did for Apple Pay to authorize the transaction.
Apple's official list of participating Apple Pay retailers includes Chevron gas stations. We attempted to use Apple Pay at the pump at two Chevron stations, both of which advertised that they offer "FastPay," but neither worked.
With that in mind, it's important to remember that Monday's launch of Apple Pay is just the start, as NFC-based transactions are still in their infancy and market watchers hope that Apple's adoption of the technology will help spread its use considerably.
If and when it does become standard, paying for goods with Apple Pay and Touch ID is just as simple and convenient as advertised.
To learn how to add credit cards to Apple Pay and Passbook, see AppleInsider's step-by-step tutorial. And below is the full list of launch partners with retail locations where Apple Pay should currently be supported:
Aeropostale
Babies R Us
BJ's
Bloomingdale's
Champs Sports
Chevron
Duane Reade
ExtraMile
Foot Locker
FootAction
House of Hoops
Kids Foot Locker
Lady Foot Locker
Macy's
McDonald's
Nike
Office Depot
Panera Bread
Petco
RadioShack
Run by Foot Locker
Six:02
Sports Authority
Subway
Texaco
Toys R Us
Unleashed
Walgreens
Wegmans
Whole Foods