Samsung, Apple retain global smartphone lead in Q3 as Xiaomi rockets into third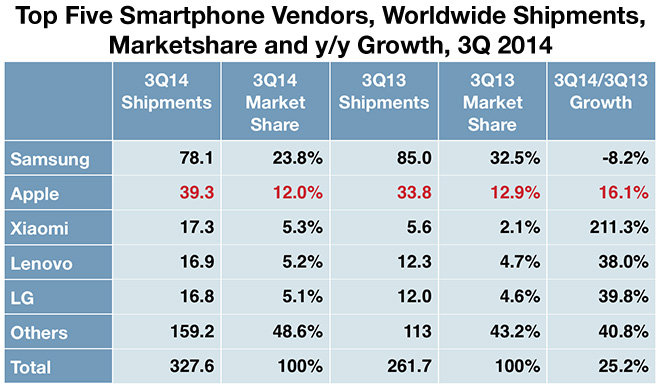 The global smartphone market grew 25 percent year-over-year during the third quarter of 2014, according to research firm IDC, with Apple seeing moderate gains and Samsung posting the only loss in shipment volume out of the top five manufacturers.
Samsung remained at the top of IDC's Worldwide Quarterly Mobile Phone Tracker for the quarter ending September, shipping 78.1 million units for a 23.8 percent marketshare, but the result represents an 8.5 percent decline from the same time last year. By contrast, the Korean electronics giant moved 85 million in the third quarter of 2013.
Coming in second was Apple, which already announced a record-breaking quarter earlier this month with sales reaching 39.27 million iPhones for the three-month period, up 16.1 percent from the year prior. Applied to the worldwide market, IDC says Apple's smartphone accounted for 12 percent of the total, down slightly from 12.9 percent in 2013.
"Despite rumors of a slowing market, smartphone shipments continue to see record-setting volumes," said IDC program director Ryan Reith. "We've finally reached a point where most developed markets are experiencing single-digit growth while emerging markets are still growing at more than 30% collectively. In these markets, smartphone price points are making mobile computing possible where we once expected feature phones to remain dominant. This is great news for overall volumes, but the challenge has now become how to make money on devices that are quickly becoming commodity products. Outside of Apple, many are struggling to do this."
The note pointed out that Apple's older iPhone 5s and 5C models contributed to a bulk of the company's sales, despite most attention being paid to the latest iPhone 6 and 6 Plus.
The big story this quarter came out of Asia, with upstart Xiaomi posting a year-over-year change of 211.3 percent to end the quarter with 17.3 million units shipped, up from 5.6 million last year. The manufacturer known for its budget-friendly phones jumped from a 2.1 percent marketshare in quarter three of 2013 to 5.3 percent by the period ending in September.
Fellow Asian firms Lenovo and LG came in fourth and fifth with 16.9 million and 16.8 million smartphones shipped, respectively. The result is unchanged from 2013, though each company bumped their share of the market by 5 percent.
No longer in the top five is Huawei, which previously sat in the No. 3 spot behind Apple as recently as the second quarter of 2014.
Overall, IDC saw a total of 327.6 million smartphone shipments and sales in quarter three, accounting for a 25.2 percent increase from the same time last year.