Google to resurrect Bump app as "Copresence," like Apple's AirDrop without privacy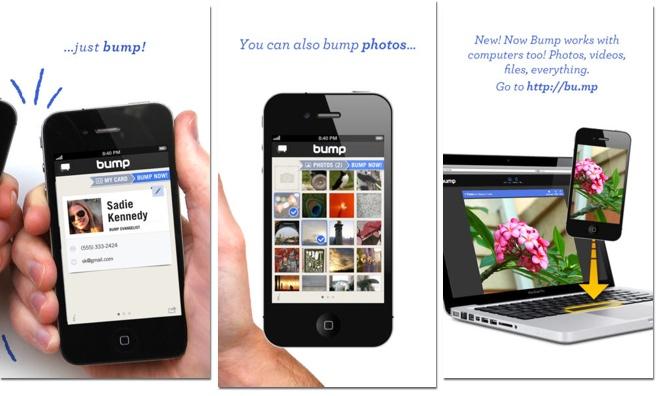 Bump, an app developer Google acquired last year, is bouncing back under the codename Copresence, an effort to deliver AirPlay-like file sharing that appears to be deeply integrated with Google+ Hangouts, sparking new privacy concerns.
Google's latest efforts to take nearby file sharing cross-platform from Android to iOS was profiled by Android Police, which described it as a "cross-platform version of Android Beam."
Android Beam is the NFC transfer system for Android that Google debuted in Android 4.0 Ice Cream Sandwich three years ago alongside Google Wallet. It uses an NFC 'bump' to configure a slow Bluetooth connection to transfer videos and other files between nearby users.
Samsung later introduced its own proprietary "S-Beam" that replaced Android Beam's slow Bluetooth link with WiFi Direct, but still used NFC in its initial "bump" configuration.
Both protocols' use of NFC to "bump-initiate" a file transfer played upon Bump, a popular iOS app from 2009 that used geolocation and accelerometer data between two devices to similarly set up a file transfer as an alternative to email or SMS.
There is no Bump
After NFC failed to gain traction, Google acquired Bump in September 2013, canceled its apps and turned off its servers, rendering what was once one of the most popular mobile apps (with more than 125 million downloads) worthless to all of its users.
However, by that time Apple had incorporated its own AirDrop feature into iOS 7. Rather than using a physical bump or an NFC tap, AirDrop uses Bluetooth 4.0 LE for efficient discovery of nearby users and Bluetooth+HS to allow wireless sessions to jump to WiFi for much faster data transfers."There's no need to wander around the room bumping your phone." Apple's Craig Federighi
Apple had earlier released AirDrop for Macs in OS X 10.7 Lion using different technology, because at the time Bluetooth 4.0 was not widely available. In the latest OS X 10.10 Yosemite, Apple now supports iOS-style AirDrop connections between Macs and iOS devices.
This summer, Apple's head of software Craig Federighi introduced an expansion of AirDrop-related features linking Macs, iPhones and iPads under the banner of Continuity, stating that "AirDrop is the easiest way to share with people around you. There's no need to wander around the room bumping your phone."
While Apple has added NFC to iPhone 6 models, it only supports Apple Pay, preventing Google from porting its NFC-based Android Beam concept to iOS. The company has, however, developed an iOS version of Google Wallet that doesn't require NFC.
Apple has no apparent interest in making AirDrop work with Android devices, instead supporting file transfers via email or SMS. While Google could replicate AirPlay-style features using Bluetooth, most of its own Android installed base doesn't support the modern Bluetooth LE, which Apple began rolling out in 2011 while Google was focused on NFC.
Google ambitions are high
Using technology acquired from Bump last year, Google could not only bridge the gap between iOS and Android, but can also monitor every transaction that occurs to harvest data on user's behaviors.
Some of the Bump technology is protected in an IBM patent that Google reportedly now owns, creating a curious extension to the company's history of both benefiting from and demonizing patents.
"Besides basic information exchanges," Liam Spradlin wrote for Android Police, "it's unclear what other functionality may be coming in the future, but from our previous rumors it seems Google's ambitions are high."
Darrell Etherington, writing for TechCrunch stated that Google Copresence "would likely sport a strong integration with its Hangouts chat application, based on the graphics uncovered in the Services APK."
Google Hangouts— which is comparable to a combination of Apple's Messages and FaceTime, but with more collaborative group features— have already been ported to iOS, creating a cross platform tool to entice users to plug into Google's services.
However, while Apple's AirDrop, Continuity Handoff (below), Messages and FaceTime features are designed to sell Apple hardware, Google makes its money from collecting and selling user data and user-facing ads.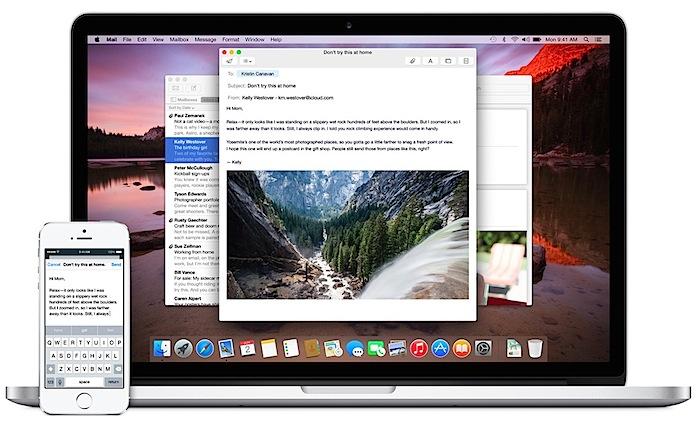 If it can gain broad adoption, Google's cross-platform Copresence features would give the company deep access to every document, photo, contact and map location that users share, because Bump's technology requires a server side-connection to work.
Apple has increasingly made user privacy a top selling point, noting that it the company isn't even interested in mass data collection tied to user profiles that defines modern social networks like Facebook and Google+.
The price of celebrity when you are the product
Google's efforts to monetize its Android user base with deep links between the company's public services and social profiles has resulted in a variety of privacy concerns, including one highlighted by ZDNet blogger Violet Blue earlier this year.
A transgendered woman who upgraded her phone to Android 4.4 KitKat was surprised to find that Google had folded SMS into Google+ Hangouts after the company looked up her new Google profile and advertised it to a coworker she texted.
"KitKat did indeed out me to a coworker. I am freaking out," the woman tweeted. "Somehow I didn't think through the potential consequences of Google+ embedding itself ever deeper into stock Android stuff."
She also noted, "I'm just glad I live in a state where it'd be illegal to fire me."
The column stated that "Google's response was that her outing was 'user error' - Google blamed her, the user for not understanding the new, confusing integration."
The outing occured just weeks after Google revealed plans to begin scraping user's Google+ profile photos for use in advertising in a program it called "shared endorsements."