Apple's iPad continues to dominate NA usage with nearly 80% share, up from July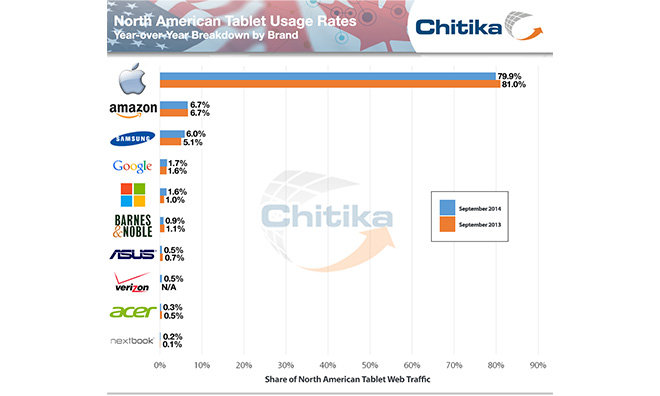 Fresh data from ad network Chitika shows Apple's iPad accounted for 79.9 percent of North American Web traffic for the month of September, up 1.9 points from measurements taken in July.
According to a fourth quarter update from Chitika's research arm Chitika Insights, the iPad's 79.9 percent marketshare is down from 81 percent year-over-year, but still sits far ahead of the closest competition, which happens to be Amazon's Kindle Fire series at 6.7 percent. Traffic generated by Amazon's tablets held steady year-over-year.
While Apple reported a worldwide sales decline for iPad during its fiscal fourth quarter ending in September, Chitika believes crucial domestic sales may be bucking the trend. Apple's 1.9 percent increase in usage from July represents the biggest gain for any tablet maker, possibly stemming from price cuts just before the iPad Air 2 and iPad mini 3 debuted in October.
Year-over-year, the biggest gains came from Apple rival Samsung, which grew its usage share from 5.1 percent in 2013 to 6 percent in September. Likely spurring sales was the Korean company's more diverse product offering, jumping from three tablets debuts in all of 2013 to six new models in the first seven months of 2014.
Microsoft also saw a small bump of 0.6 percent from last year with continued Surface 2 sales, ending the month with 1.6 percent of the market. It should be noted that Chitika does not include Surface Pro models in its rankings as they fall closer to laptops than tablets.
Apple has the upper hand going into the holiday shopping season, especially with a recently refreshed lineup, but Amazon, Google and Sony are also fielding new equipment ahead of December. A more stable look at the market should be available once volatility surrounding the holidays dies down in January.