First look: Pixelmator 3.3 with support for 5K iMac, Handoff, Repair extension, more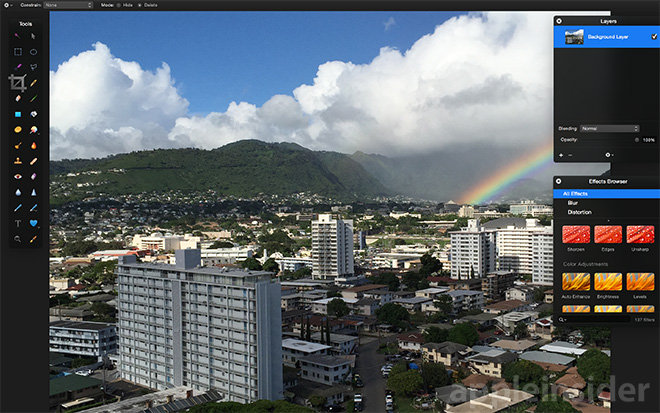 AppleInsider may earn an affiliate commission on purchases made through links on our site.
Popular image editing software developer Pixelmator on Thursday released version 3.3 of its eponymous Mac app, bringing a host of new functions that take full advantage of Apple's latest OS X Yosemite features.
Dubbed "Limestone," Pixelmator 3.3 sports a refreshed user interface, tie-ins with tentpole OS X Yosemite Continuity features, iCloud Drive integration and support for Apple's latest high-resolution iMac with Retina 5K display. AppleInsider was able to test drive the latest Pixelmator software prior to release.
Compared to the previous Pixelmator 3.2 Sandstone, version 3.3 adds a bit of polish to the already easy-to-use interface, though not much was changed in the way of usability. Like OS X Yosemite, Pixelmator ditches shaded drop-down menus in favor of transparent panes, while other menus are now scrollable within the main tool windows, such as the Effects Browser.
Pixelmator 3.3 brings back the same set of powerful editing tools, including the amazingly fast and accurate Repair Tool. Introduced in version 3.2, Repair lets users paint over an object they want removed with a resizable paintbrush cursor. The software uses specialized algorithms to process the surrounding area, remove the unwanted section and stitch together a cohesive background, making the image whole.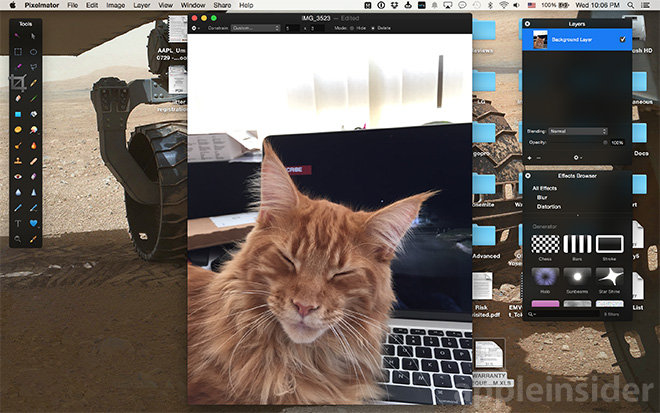 According to Pixelmator, the code is streamlined to be easy on system resources and users can choose from "quick," "standard" and "advanced" levels of processing depending on the editing situation. Most recently, the company introduced the Repair Tool as the highlight feature of its first foray into mobile image editing, Pixelmator for iPad.
On the topic of mobile utility, the latest Pixelmator for Mac bakes in support for Handoff, an OS X Yosemite Continuity feature that allows users to start a project on Mac and hand it off to an iOS device, or vice versa. Other image editors with cross-device support, like Adobe's Lightroom series, use proprietary cloud services for syncing.
Unfortunately, Handoff was disabled on our preview version of Pixelmator, though the app icon did appear to the left of the dock in OS X. Clicking on it brought up a window telling us to enable iCloud storage, which was already turned on for both devices. Pixelmator has confirmed that the feature will be enabled in the Mac App Store version.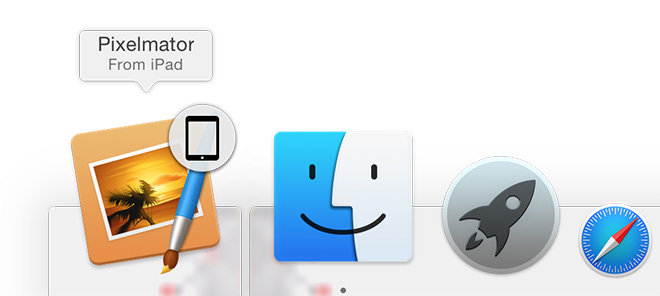 The preview app also did not have extensions enabled, so we were unable to test out the Repair Tool's capabilities in Mail or Text Editor. The idea is great in theory and we have no doubt it will be a valuable addition to Apple's own Markup utility.
Syncing with iCloud Drive did work, however, allowing for easy storage and access across Apple's range of products. Like other apps, Pixelmator builds in iCloud Drive integration as a "Save" option.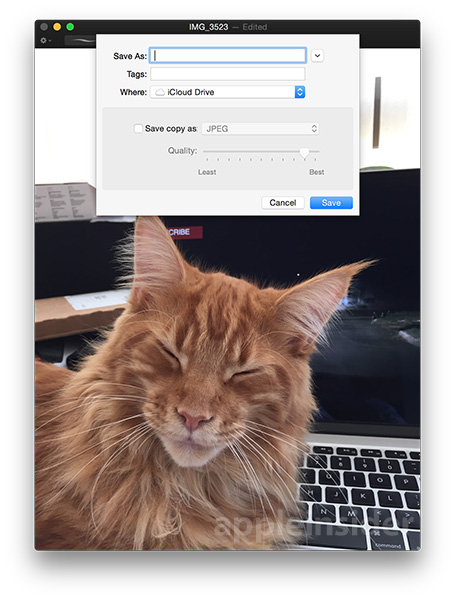 Finally, the app adds support for the new iMac with Retina 5K display, allowing for a huge work canvas, large native file handling and multiple open projects.
Pixelmator version 3.3 is available from the Mac App Store for $29.99 or as a free update for existing users. Those new to the software can try it out free for 30 days by visiting Pixelmator's website.