First look: Pixelmator for iPad takes powerful image editing on-the-go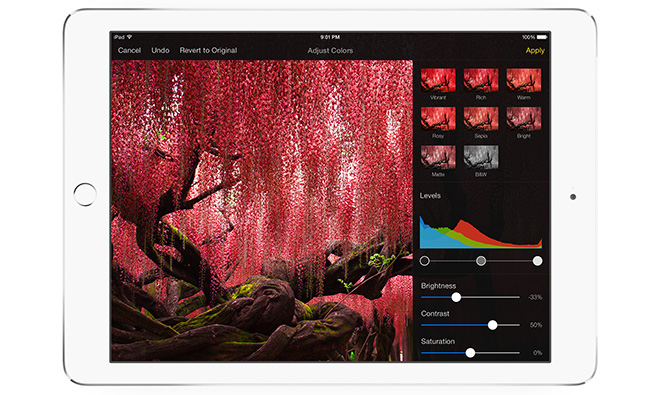 AppleInsider is supported by its audience and may earn commission as an Amazon Associate and affiliate partner on qualifying purchases. These affiliate partnerships do not influence our editorial content.
Popular Mac image editor Pixelmator went mobile on Thursday with an eponymous iPad release that combines two hallmark features users of the desktop version have come to love: a deep powerful toolset in an easy to use interface.
Pixelmator for iPad was first announced by co-creator Aidas Dailide during an onstage demo at Apple's iPad Air 2 unveiling last week. AppleInsider was able to go hands-on with the software ahead of release.
The app itself features a very stripped down user interface, affording users full screen real estate to view and manipulate photos, text, graphics and more. In fact, most of the tools are hidden behind menus accessed via a set of icons in the top right corner of the workspace, while contextual controls, including a handy undo button, appear on the left.
Like the demo, everything is super smooth, even on a first-generation iPad Air. The app does a great job in handling large image files, making zooming, scrolling and rotating with multitouch gestures a fluid experience.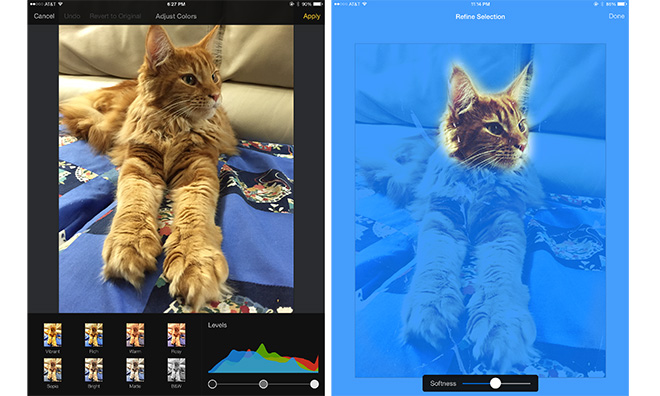 While not the most exhaustive on the market, Pixelmator contains powerful retouching, effects, color adjustment, painting and other creative tools. Coupled with the iPad's pixel-dense screen, the app makes for one of the most advanced image manipulation titles on the App Store, OS X included.
Many users will be excited to see retouching tools that sport presets for color, brightness, saturation and smudging, among others. The Repair tool is especially useful for brushing out fairly substantial blemishes. With a powerful pattern matching algorithm, users can even remove larger objects so long as the background isn't too complex.
In addition, a number of special effects can be used to further manipulate layers. Whole-image tweaks include sharpness, vignetting, pinch, bokeh, noise, hue and saturation, "light leak," miniaturize (creates a simulated tilt-shift effect through selective blur) and kaleidoscope. Area-specific adjustments include blur, bump effects and more.
Nested within most effects are preset styles, for example the "Vintage" effect comes in Bauhaus, Art Deco, Romantic, Retro, Hippie, Punk, and Urban. In some cases, a virtual wheel is provided to increase and decrease the strength of a chosen effect, while other instances call for a slider. In both instances, previews are calculated live.
Advanced users also get a few great tools in histogram-based color adjustments across the usual metrics. Curves, levels, brightness and contrast, color balance and white balance can all be controlled with accompanying live preview. Due to the processing power required, these features are usually reserved for desktop applications, but Pixelmator is exceedingly fast and stable while performing the above mentioned functions.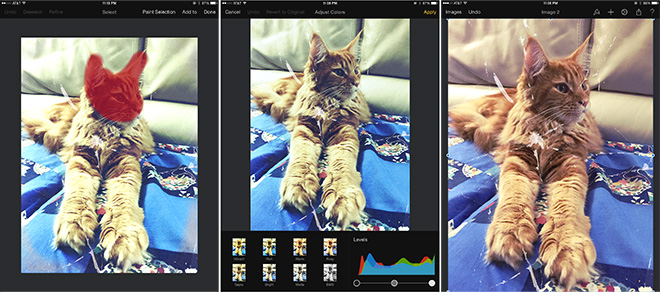 Being a non-destructive image editor, Pixelmator uses layers to stack and blend photos, text and image effects, but falls short of supporting adjustment layers. This is not a huge issue since the selection and spot effect tools are granular enough to yield acceptable results. On the selection side, the app offers free, shape-based, "magic wand" and paint-on tools with fine adjustments available for feathering edges and blending.
Finally, Pixelmator includes a variety of sharing options and support for iCloud syncing. Support for new iOS 8 features is also built in, including Handoff to Pixelmator for Mac.
Pixelmator for iPad is available for $4.99 from the iOS App Store.