Fitbit products remain on the shelves at Apple Stores, for now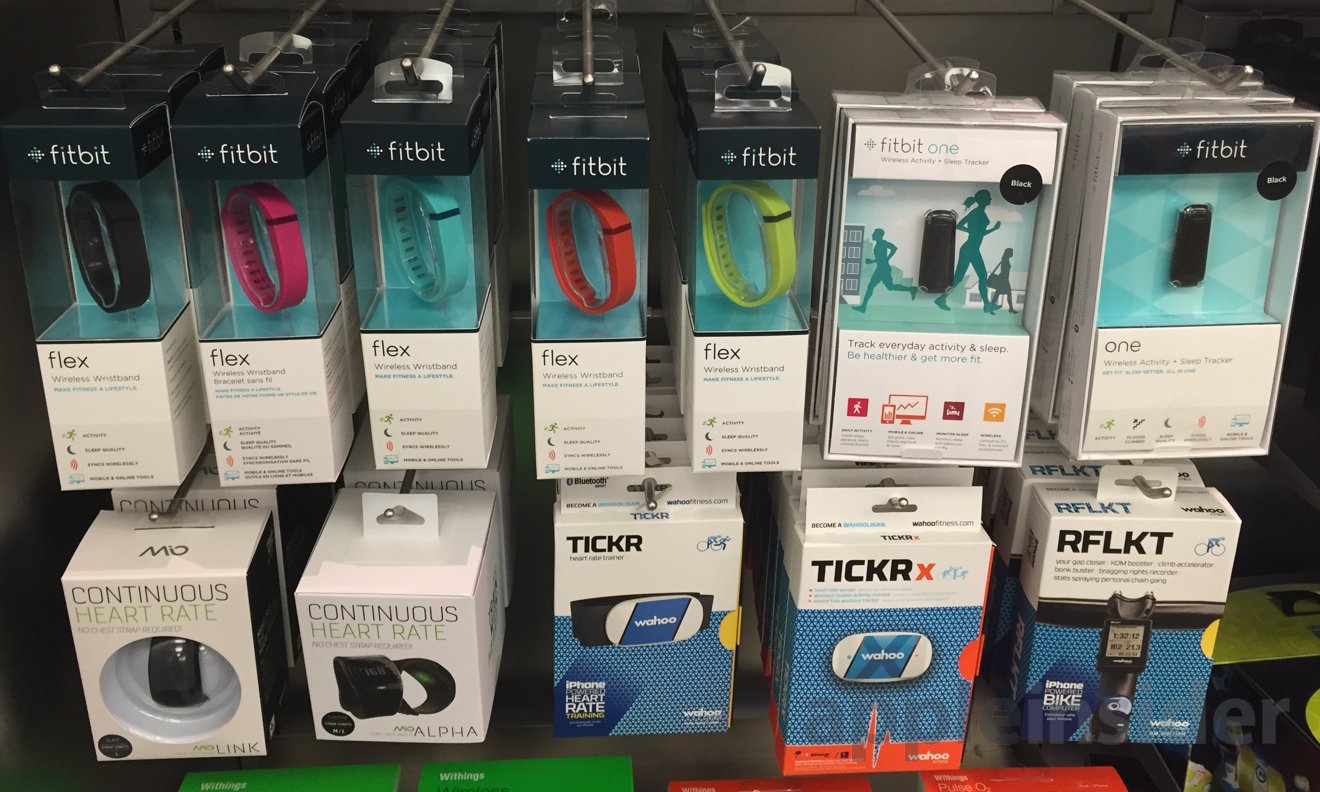 AppleInsider is supported by its audience and may earn commission as an Amazon Associate and affiliate partner on qualifying purchases. These affiliate partnerships do not influence our editorial content.
Though Apple removed Fitbit hardware from its online store last week, the company's popular lineup of activity tracking devices remain on the shelves at Apple's retail stores.
The versatile Fitbit One and wrist-worn Fitbit Flex both remain available at Apple Stores across the country, AppleInsider has confirmed. They can be found alongside other fitness tracking devices like the Jawbone Up, Wahoo Tickr and Mio Alpha.
Fitbit's One and Flex were also available via Apple's online store until last Friday, when they were removed without explanation. Apple's apparent plans to stop selling Fitbit hardware entirely were leaked last month.
Apple Store employees asked about the availability of Fitbit products at retail had no clues as to Apple's future plans, including how long Fitbit devices might remain available on the shelves.
Fitbit recently unveiled a trio of new fitness trackers set to launch in the near future, some of them with heart rate tracking. But given the current situation, it's not expected that they will be sold by Apple.
Though the Fitbit devices to connect to Apple's iOS, they are not compatible with the company's HealthKit tools for developers, or the accompanying Health app in iOS 8. The company indicated in October that it does not have plans to integrate with HealthKit because it's not cross-platform, though it is "evaluating" the service and suggested it could change course if there is enough user demand.
One possible reason Fitbit's reluctance to embrace HealthKit is the fact that data exporting is a "premium" feature in the company's ecosystem. The ability to freely export Fitbit data, and integrate it with other services, requires a membership priced at $49.99, while Apple's HealthKit could accomplish that same task for free.
In addition to the HealthKit dispute, Apple will also be launching its own fitness tracking Watch in early 2015, and that device will accomplish many of the same functions as the Fitbit product family.