Rumor: Apple taps rival Samsung to build majority of A-series chips starting next year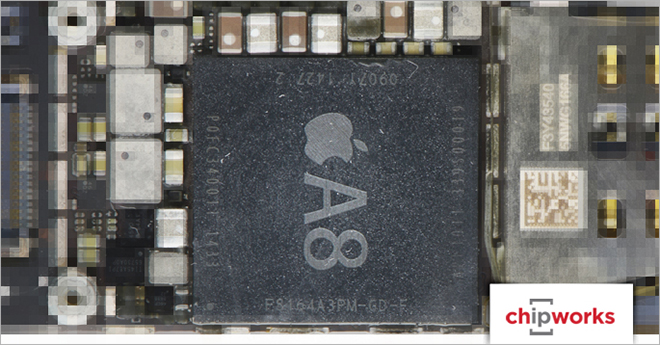 A new rumor suggests that Apple has struck a major new agreement with its chief rival, Samsung, in which the South Korean electronics maker will produce most of Apple's custom A-series processors for iPhone and iPad starting in 2015.
The unconfirmed details shared on Monday by The Korea Times claim that Samsung will become the "primary supplier" to Apple for processors to be used in iPhones and iPads, taking back share from competing chipmaker Taiwan Semiconductor Manufacturing Co. Recent estimates suggest that although TSMC is handling the lion's share of A8 chip production, Samsung is still responsible for building 40 percent of the chips in the iPhone 6 and iPhone 6 Plus.
The supposed new deal between Apple and Samsung, which is said to be worth billions of dollars, would reportedly see Samsung producing chips for the company at its plants in South Korea; Austin, Tex.; and at a plant in New York. Samsung's share is expected to grow even further in 2016 to 80 percent of Apple's chip allocation, with the remaining 20 percent rumored to be handled by TSMC.
However, Monday's rumor does contradict with earlier reports that suggested TMSC has been building up its relationship with Apple. Various reports from over the years have alleged that Apple has worked to completely remove Samsung from its supply chain.
Rumors about Apple's chip production have seemingly always been a back-and-forth affair between Samsung and TSMC. For example, another report from July alleged that Samsung would take over iPhone and iPad chip production from TSMC even sooner, starting next year with an anticipated "A9" processor in 2015.
Up until this year, Samsung was the sole supplier of Apple's custom A-series processors found in the iPhone, iPad, iPod touch, and Apple TV. In addition to being a key component supplier, Samsung is also a fierce rival, competing with Apple in a wide range of markets including smartphones and tablets. Apple first began producing its A-series chips for the iPad in 2010.
TSMC was rumored to enter Apple's chip production business for years before it finally became a reality with the iPhone 6 and iPhone 6 Plus, highlighting the uncertainty of predicting specific timeframes in changes to Apple's supply chain.