Samsung still reportedly supplying 40% of Apple A8 chips for iPhone 6 & 6 Plus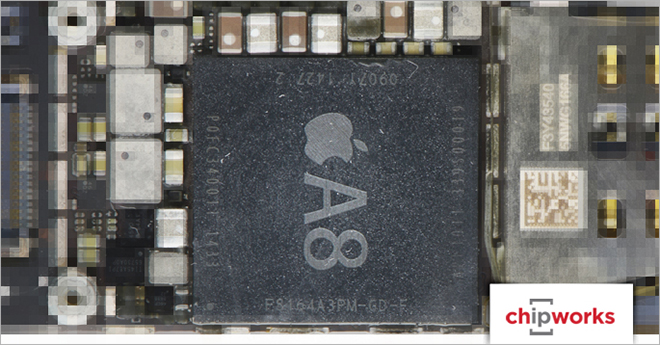 Though Taiwan Semiconductor Manufacturing Co. is handling the lion's share of building A8 chips for Apple's latest iPhones, longtime partner Samsung is still reportedly a major contributor, accounting for an estimated 40 percent of production.
Samsung's apparent share of Apple's A8 business was revealed by IHS to Re/code, as part of a list of the estimated cost of components in the iPhone 6 and iPhone 6 Plus. The research firm believes the new A8 chip, which is 13 percent smaller than its predecessor, has a total manufacturing cost of $20, or about $3 more than the A7.
While the A8 isn't a particular significant step up from its immediate predecessor in terms of performance, Apple did take a "cutting edge" approach, in the words of Andrew Rassweiler of IHS, in designing a new, smaller 20-nanometer design for its custom processor. Building a smaller processor allows Apple to increase efficiency, which helps to improve battery life.
IHS pegs the total cost of parts and labor to build an iPhone 6 at between $200 and $247, while the iPhone 6 Plus is given a range of $216 for the 16-gigabyte model to $263 for the high-end 128-gigabyte capacity.
Of course, those estimates do not include research, development and other costly endeavors required by Apple to bring a final product to market.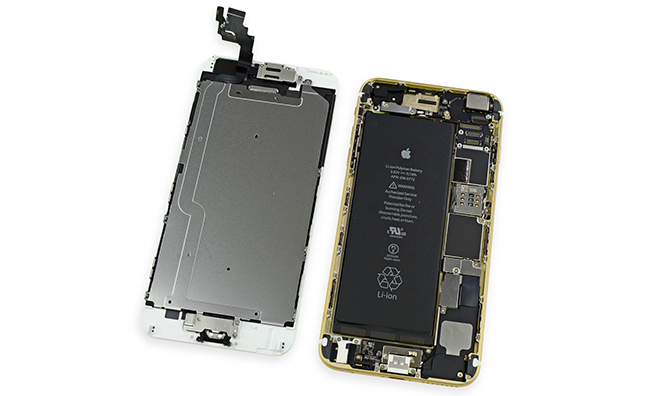 IHS believes the most expensive component of Apple's latest iPhones is the display, estimated to cost $45 on the 4.7-inch iPhone 6 and $52.50 for the 5.5-inch iPhone 6 Plus and its greater pixel density. Screen suppliers are said to be LG Display and Japan Display.
Both screens are a step up from the 4-inch display on last year's iPhone 5s, which was estimated to cost about $41.
TSMC was first confirmed as a manufacturer of Apple's 20-nanometer A8 processor once the handset began finding its way into enthusiasts' hands last week. It was also found that the new iPhones include an unannounced NFC controller made by NXP that dates back to 2012, which suggests Apple has had access to the silicon for at least 18 months.
Apple's iPhone 6 and iPhone 6 Plus feature major component redesigns over last year's iPhone models, necessitated by a new and thinner-than-ever form factor. Both models still sport larger batteries than last year's model, however, thanks to more space overall with larger displays.