Apple officially begins selling automated iAds in bid to boost mobile advertising business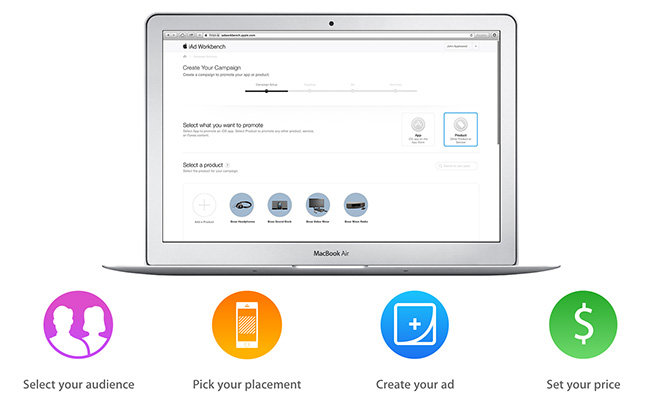 Apple and a series of partners officially announced on Friday that the iAd network is now accepting "programmatic" mobile advertisement purchases, in a change that brings Apple in-line with other ad services.
Apple's plan to offer automated iAds leaked earlier this week when one of its partners, Rubicon Project, accidentally published a press release early. But those plans, and additional partners, became official on Friday when the new automated system debuted.
Joining Rubicon Project will be other ad tech companies like AdRoll, MediaMath, and The Trade Desk. Those platforms are also integrated with Apple's iAd Workbench tools to allow targeted, cross-device advertising campaigns directed at iPhone and iPad users.
With the change, iAd inventory will be bought and sold in an open marketplace, making it easier for advertisers to buy audiences. Programmatic buying enables advertisers to bid on placements through auctions, in a process that has proven popular through other advertising networks.

In its announcement, AdRoll said that customers will be able to run their campaigns through "Apple's proprietary, privacy minded consumer data sets gleaned through iTunes." Advertisers will be able to create and update their campaigns, retrieve analytics, and manage bids across iAd directly through participating third-party platforms.
"AdRoll has a long history of being first to market with new inventory sources and innovative functionality. We're excited to bring the power, precision and scale of programmatic buying to a high-quality, in-demand inventory source," said AdRoll President and CMO Adam Berke. "AdRoll is committed to bringing developers and advertisers of all sizes cross-device solutions for a world gone mobile."
MediaMath said its clients will now benefit from streamlined campaign setup & management, a wide range of reporting including metrics from tap-through rates to video completes, simplified billing, and early access to new features and functionality. One of its first iAd clients is L.L. Bean.
"With marketing budgets rapidly shifting towards programmatic, and the continued rapid growth of mobile, iAd brings a powerful combination of global scale, unique & rich data, and a high-quality user experience, allowing our clients to engage with their target consumers across an unprecedented range of apps and devices," said Ari Buchalter, COO of MediaMath.