Apple updates GarageBand for iOS with exclusive RED Loop Pack, available for limited time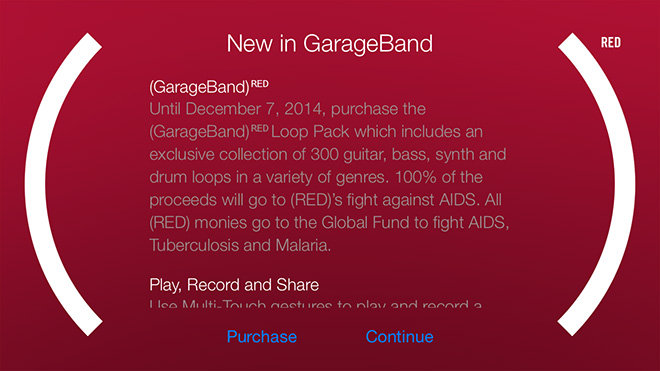 Apple on Sunday released an update to its GarageBand music authoring app that activates an option to purchase the (GarageBand)RED Loop Pack, an exclusive collections of hundreds of new instrument loops, with all proceeds going to charity.
An in-app purchase branded in typical RED fashion, the (GarageBand)RED Loop Pack features 300 guitar, bass, synth and drum loops spread over a number of musical genres. To mark the occasion, Apple changed GarageBand's app icon background from a sunset gradient to red.
The new option is available only until Dec. 7 and Apple notes all proceeds will go to the (RED) foundation's Global Fund to Fight AIDS, Tuberculosis and Malaria. Usually, only a portion of sales income goes toward the special fund, as is the case with RED-designated iPods.
In a tweet from its official Twitter account in April, RED revealed contributions from Apple had reached a total of $70 million since the introduction of special (Product)RED iPods and accessories in 2006.
GarageBand for iOS comes in at 628MB download and can be purchased through the iOS App Store for $4.99, while the (GarageBand)RED pack costs $0.99.